If you are looking for the best business ideas in Kenya, then look no further. This is simply because this article presents you with the best business ideas for a successful entrepreneur.
There are very many business opportunities in Kenya which one can put into action and begin benefiting from depending on the startup capital available.
These are what you will learn in this article:
How you will successfully register and start your business.
The most important things you need to consider when registering your business in Kenya.
Full list of the most profitable Business Ideas In Kenya.
Recommended reading: Top 20 Richest Countries In Africa.
How To Register And Start A Business In Kenya In 2021
Here are the necessary steps to follow to register a company in Kenya:
Identify your brand or company name
Memorandum and Article of association and statement of nominal capital
Pay your stamp duty based on your declared nominal capital.
Fill the necessary forms (Situation of office form 201, list of directors form 203, Declaration of compliance form 208)
File the documents at the registrars' office
Get your company seal
Fulfill basic statutory requirements (PIN, VAT, Insurance, Social security fund)
Key Things To Note In The Registration Of Business In Kenya
There are a few things you need to take note of when you are in the process of registering your business. These tips are highlighted in the points below:
At least a director with a minimum age of 18 years is required.
Register your company with the Company Registry
Register with Kenya Revenue Authority (KRA)
The business target start date is the date you would like to start your business. It must be at least a day or preferably a week after the date you submitted your application.
You can decide to buy an existing company in Kenya.
A certificate of registration is a permit that allows the business owner to run or operate their businesses while a certificate of incorporation is the one issued when the company becomes a legal entity.
The Role of the Attorney General in Business Registration is that it maintains the company register.
Recommended reading: Exclusive guide to WhatsApp for Business.
Here Is The List Of Lucrative Business Ideas In Kenya
It is an undeniable fact that Kenya is the economic, financial, and transport hub of East Africa.
Although it is extremely difficult to find reliable data, under-employment and unemployment are very high in Kenya and could be over 40% of the population.
Data shows that 36.1% percent of the Kenya population is below the poverty line.
People on the African continent think starting a business is a luxury. That perception is a myth that has been busted long ago with the advent of education and civilization.
That is why you should now begin to identify the best business to start in Kenya even if you don't have so much money.
The land is actually fertile for you because there are a lot of people who will patronize your business and make you rich.
This is especially so if you are in a densely populated area such as Nairobi, Mombasa, and other cities.
The following are the best business ideas in Kenya you can do successfully:
1. Selling Second-Hand Clothes Or Mitumba In 2021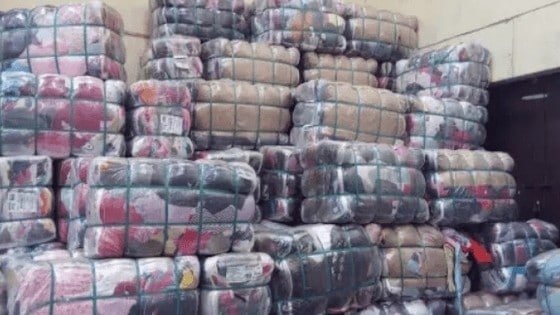 Mitumba is one of the top business opportunities in Kenya and people are making lots of money by taking a bold decision and investing right.
The job of selling second-hand clothes also called Mitumba may never cross the minds of many graduate entrepreneurs. In fact, many people consider it as a job for the uneducated.
You will agree with me that none of the business courses in Kenya will ever bother on Mitumba business.
This makes almost all young graduate entrepreneurs in Kenya frown upon the business opportunities in the mitumba business.
The Kenya National Bureau of Statistics has confirmed that the country spent 6.6 billion Shillings importing second-hand clothes in the first six (6) months of 2017 alone.
The statistics show that the Mitumba business grew by 8.2% in the same period.
It was clear from the research that Kenyans prefer the Mitumba due to its design, high quality, as well as it's fair pricing.
But no, there was an exception.
One graduate who has embraced Mitumba business is Grace Wambere, a Bachelor of Arts graduate in Information Technology from the University of Frankfurt in Germany.
Read her full story from the-star.co.ke here.
The Mitumba business is one of the business ideas that many people in Kenya fear to venture into.
Despite this, it is a booming business that promises good profit. One does not need a lot of capital to begin the Mitumba business.
You can start selling Mitumba clothes with as little as 1,000 shillings.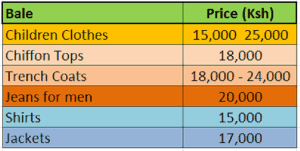 No wonder the volume of second-hand clothes has grown from 62,158 tonnes in 2016 to 69,862 in 2017 representing 11.24% increment.
The most important factors to consider are an excellent location from where to sell and where to buy the clothes.
A majority of the entrepreneurs do buy them at Muthurwa and Gikomba markets in Nairobi.
On an average day, one can be assured of a profit of about 500 shillings.
2. Profitable Barber Or Salon Shop In Kenya
This business is also a profitable one and has the potential of making you rich. People who are not aware of its potential may underrate it and assume that it is meant for the uneducated.
In the beginning, you can visit clients in their homes, save enough money, and rent out a place finally.
A standard barber or salon stall goes for about 6000 to 15000 shillings. From this point, one can work on having money to buy the equipment he/she needs.
Recommended reading: Ultimate Guide to Personal Training Business
3. Boda-Boda Business Ideas In Kenya For 2021
Bodaboda is among one of the most profitable business ideas in Kenya that people particularly the youth are joining in large numbers.
According to the Motorcycle Assemblers Association of Kenya (MAAK), the boda-boda business alone generated a revenue of over Ksh 219 billion in 2017 alone.
This tells you how lucrative the boda-boda business has been over the years.
You can develop a good boda boda business plan and make it big. Venture into this business especially if you are still searching for a job and have some saved up money.
In Kenya, a motorcycle costs from 65000 to 120,000 Kenyan shillings. With this business, you can comfortably make 1000 shillings at the end of the day.
You can find yuba boda boda bikes at a low price and use them for your own business.
4. M-Pesa Business In Kenya, Unique In 2021
This is one of the best business ideas available in Nairobi and its environs.
M-Pesa, which is a mobile phone-based money transfer and also runs both financing and micro-finance services has brought relief to many Kenyan entrepreneurs.
The M-Pesa business is one of the best businesses to start in Kenya.
M-Pesa business has tremendously grown the recent years and is also very lucrative.
This business may seem crowded, but one can be assured of a profit at the end of the day irrespective of the place of operation.
The statistics show that Safaricom has over 26 million M-Pesa subscribers as of May 2017.
Moreover, mobile money has now transformed from just a mere transfer of money to changing the lives of the good people of Kenya.
For example, in 2006, when M-Pesa was yet to have its feet on the ground, the mobile money transaction was a little over Ksh 83 million.
The figure published last year indicates that more than 184 billion Shillings have been transacted over M-Pesa.
For you to run an M-Pesa business, you need to have a compulsory deposit of at least Ksh 100,000. However, you will only require around Ksh 50,000 to be someone who gives you his/her line (aggregated line).
Read Also: The Ultimate Guide To Your E-Payslip.
5. Doing Poultry Farming In Kenya In 2021
This is another very profitable business idea that one can begin with little capital in Kenya.
In Kenya, the poultry business is mostly small-scale and for domestic consumption. The poultry birds mostly raised are chicken, geese, turkey, and ducks.
The main products of this business idea in Kenya are to produce eggs or meat for food. Some of the common breeds of chicken that are doing well in Kenya include the following:
Layers: These are chickens raised for their eggs.
Broilers: Individual companies in Kenya engage in broiler farming for meat.
Kenbro: These Kenbro chickens belong to Kenchick, and they are fed for six (6) months before they start laying.
Kuroiler: These birds are dual-purpose hybrid chicken from Keggfarms Group in Gurgaon.
Kari improved Kienyeji chicken: The Kari chicken is locally produced and distributed by Homerange Poultry Kenya.
You require a start-up capital of as low as Ksh 20,000 to start the chicken-rearing business. As the number of chickens increases, your profits will go up as well.
6. Photocopy And Printing Business Opportunities In Kenya
This is an excellent business opportunity in Kenya particularly for those who live around universities or colleges.
This is because these services are in high demand in learning institutions.
You can also start it close to the public offices.
Starting this business will need an initial capital of not more than 7,000 Kenyan Shillings.
7. Smokies And Boiled Eggs Business Idea In Kenya
The business of selling eggs and smokies is also an excellent idea you can think about. For a good start, you need about 1,000 Kenyan Shilling as initial capital.
You may not have time to do these eggs and smokies businesses in Kenya; however, you can hire someone to run the business for you.
Note that this kind of business thrives well at specific locations including those listed below:
Near clubs and bars.
Close to schools or learning institutions.
Areas around industrial areas and hospitals.
You may also locate your business at the bus stop.
On average, one can earn a profit of around 500 shillings which translates to an income of about Ksh 15,000 in a month.
What you only need is an excellent location and your commitment.
Recommended reading: Profitable Business Ideas in Botswana
8. Start Manicure And Pedicure Business In Nairobi
As time goes by, more and more Kenyans invest in their self-care care and in the improvement of their image.
Now, both men and women, not only go to the beauty salon to change their hairstyle but frequently for the care of their hands and feet.
Providing manicure and pedicure service is an excellent business idea. In Kenya, this type of business is just taking shape.
Since there are few specialized centers where both services are offered at the same time and in which customers are delighted.
It stands out as a perfect business opportunity for young entrepreneurs.
The reality is that every Kenyan woman needs to look beautiful and attractive.
You can, therefore, make use of this need to earn some income by beginning a pedicure and manicure business.
If you want to make money, then this is a decent business for you.
Acrylic toenails, eyebrow shaping, foot massage, waxing, nail coating, eyelash tinting, eyelash extension, wraps with either silk, linen, or fiberglass, makeup application, and more are the business opportunities awaiting you out there.
It is not very expensive to start this business, and one can visit clients in their homes before renting a place.
9. Start Profitable Car Wash Business In Kenya
In order to start this business, one only needs a pump and a place with a source of water. Many car owners prefer to pay someone to wash their cars rather than doing it themselves.
Usually, 200 shillings is charged per car, and therefore you will make 20,000 shillings each day if you were to wash 100 cars daily.
10. Movie Shop Business In Kenya
It is one of the simplest business ideas in Kenya with very good returns on investment. You can start with around 20,000 shillings.
You get a room and a computer or a laptop and begin selling movies. Many of the movie shops make 4000 shillings profit every day.
When the business becomes stable, you can have your chain of movie shops in different towns.
11. Start Cleaning Service Business In 2021
Another great startup business idea.
This includes both home and office cleaning services.
You only need to negotiate with the home and house owners and then get some people to do the washing then pay them and remain with some money.
Recommended reading: The Zipcode and Postal code, what you need to know
12. Selling Ice Cream In Nairobi – Most Profitable
One needs to find a good point like near a university, school or a street with many people.
In Nairobi, the initial capital required is about 20,00 shillings.
13. Fruit Business And Juice Blending
The increased cases of terminal diseases like cancer have made people keep away from processed food.
You can assist people to adopt healthy lives by starting a fruit stand or juice blending.
A blender and other containers are needed.
Find out the Current Treasury Bill Rate In Ghana.
14. Selling Women Handbags
Here is the big bite! Another top entrepreneur idea for those who want to be successful with their business.
Women love looking good and they are fashionable. You can begin selling handbags to them.
People in this business get their stock from places like Uganda, Tanzania, United Arab Emirates, United States, and the rest.
Are you an Apple user? Check out how to use Apple pay to send and receive money.
15. Cereals Business Opportunity In Kenya
Agriculture remains the backbone of Kenya's economy. It contributes to more than one-third of Kenya's GDP.
About 75% of Kenya's population, numbering over 48.5 million work at least part-time in the agricultural sector, including livestock and pastoral activities.
Cereals are highly consumed in Kenya. You only need a good location and sales will definitely be high.
One can also buy them wholesale and sell them to retailers at a profit.
16. Baby Daycare Services – Successful Venture
Baby daycare services are gaining popularity each day. This is because parents are getting busier and busier.
What you need is a good ventilated room, trust, and a good location.
17. Coffee Shop Business In Nairobi
At a glance, you might think the coffee shop business might be costly.
That is never the case in most cases. Just forget about the cost and think about the revenue you can generate from that investment.
However, there are certain things you will definitely need for your coffee shop.
Don't worry since they aren't that costly. Just think about how you can make your coffee shop profitable.
This really works well in places with many people like near schools and churches.
Huge traffics translates to huge profits.
18. Freelance Tour Guide
Kenya is a great tourist destination point. Tourism is significant in Kenya's economy.
In spite of the political instability that lasted throughout the 2nd half of 2017, Kenya's tourism sector witnessed an increase of 20% which shows how resilient the industry has been.
About 300,000 visitors are received every year.
You can register a freelance tour guide company in order to tap this opportunity.
One needs to get some vans and hire them out to these tourists.
19. Buying And Selling Of Land As Business Opportunity In Kenya In 2021
Land in Kenya is continuously becoming a scarce resource, and it appreciates very fast.
You can, therefore, buy many plots and big parcels and sell them when the prices have significantly gone high.
20. Language Translator In Kenya
This is one of the best online businesses you can do in Kenya.
There are many embassies in Kenya, yet there is no website to teach foreigners about the Kenyan language.
As an entrepreneur, you can take this opportunity and make money by translating some of the common Kenyan languages into English.
Conclusion
Now you know the best business ideas for a successful entrepreneur in Kenya.
As you have seen, there are many business ideas in Kenya.
It is up to you to identify which one of them will work out for you.
As you can see, there are lots of untapped business ideas in Kenya that many entrepreneurs in the African continent and beyond.
I hope that this guide will be of great help to you. Choose any of the above business ideas, and you will be successful in your venture.
But wait if you have any other business opportunities in Kenya that any start-up entrepreneur can venture with little money, share it in the comment section below.
If you found this beginner guide helpful, then share it with your friends.
See also:
This simple and easy article Was Last Updated on by Nana Abrokwa
Please you wish to visit this post "https://thebusinessalert.com/best-business-ideas-in-kenya-succesful-entrepreneur/" ocassionally for changes and updates that we will make to this article.
Check this ultimate guide: https://thebusinessalert.com/sunlearn-student-portal-login/
In the year 2022, we bring you the best of banking and money transfer experience. Just stay tuned for more articles.
Check this ultimate guide: https://thebusinessalert.com/irs-code-290/
Here is the main list of our latest guides for May 2022, check them: