PayPal is an American online money transfer website-based system that operates on a worldwide model. PayPal in South Africa is beneficial for both business and personal use. It supports online payment for personal or corporate use.
Can PayPal Be Used In South Africa?
People keep asking the question: Can PayPal be used for transactions in South Africa? My humble answer is YES!
It is true that PayPal has been blacklisted in many African countries.
That notwithstanding, residents of South Africa and many other African countries can still safely create and use a PayPal account.
Data shows that PayPal has opened more than 1 million accounts in South Africa since PayPal was first launched with First National Bank (FNB) in 2010.
It is established that PayPal's active accounts throughout the whole World now stand at 254 million as of the 3rd Quarter of 2018. This represents a 15% year-on-year growth.
Sources in South Africa have found that there has been a rise of PayPal users because of its quick and cheap methods of money transfers.
Some of them are auction sites, online vendors, and other commercial sites which deals with regular transaction processes.
Sending money in and out of South Africa is now very easy with PayPal.
This is because most eCommerce websites now accept payments through services such as PayPal, Xoom, Venmo, etc in addition to Debit cards and Credit cards.
After reading this guide, you will no longer worry about how and where to get your PayPal account in South Africa.
Note: If you don't want to read all the posts, you can use the table of contents below to get the information you want:
Recommended Reading: Why is WhatsApp for Business App so Popular?
Why Is PayPal In South Africa A Must?
PayPal is leading most digital payment platforms such as Apple Pay, Google Pay, Android Pay, and many others.
With PayPal increasing its reach to over 202 countries worldwide, allowing its customers to withdraw money in 56 currencies, and receiving money in over 100 currencies, it becomes imperative that every business-minded entity would wish to tap into this great opportunity.
And I know you are ready too.
Advantages Of Using PayPal In 2021
Here are some of the few advantages you can enjoy when you use PayPal to send and receive money:
Is smart
Allows you to accept online credit card payments
Allows you to sell internationally
Is more secure and can reduce the cost of fraud and charge-backs
Offers comprehensive online reports
A study confirms that PayPal is the third most preferred mode of payment after Visa and MasterCard. In addition to that, PayPal is the 2nd safest payment system after the Credit card.
PayPal ensures a secure means to make transactions on millions of websites around the world.
Through the partnership with  First National Bank (FNB), PayPal users in South Africa can withdraw money from their accounts to any eligible bank account across the country.
Customers can also top up their PayPal account from any FNB bank account anywhere in and outside South Africa.
Recommended reading: Super Easy Business Ideas in Africa
What Is The Difference Between Personal And Business PayPal Accounts?
Just as banks have a different account policy for individuals and corporations, in the same way, PayPal has a personal and business account.
In other words, an individual can use PayPal for their personal use, which is commonly called the Personal PayPal account.
Business management can also make their account under the Business PayPal account.
There are a lot of unique features and differences in these accounts, and one among them is the limitations of holding or maintaining a balance.
For instance, a personal PayPal account can be used to buy products, make payments on online sites or send money to family or friends.
On the other hand, a business account is used to sell products, accept donations, and utilize services that might be needed by an organization.
What Is The Difference Between Billing And Shipping Address?
Imagine you bought a product for your loved one from an online site and wanted to send it directly to them.
Being a gift sent online, you might not want them to know about its price. So what do you do?
You would send the gift to them but might make a special request of not mentioning the price to the delivered person.
This question usually turns up when one is accessing an online site to buy a product.
When a person buys something, then the simple and usual section is the Shipping Address, which means the address where the product is supposed to be delivered.
Now comes the question of the billing address. A billing address is where the bill of the product will be delivered.
This section is useful for Personal, but mostly for Business PayPal accounts.
While buying or selling a product, the user will have the option to send the bill to the exact person who would be filing all the records.
Learn how to set up and use WhatsApp voice and video calls on Android, iPhone, and Windows phones.
What Are The Requirements to Create a PayPal Account In South Africa?
With over 70% of South African internet users shopping online, and most of them using PayPal as their primary mode of transaction, it makes creating a PayPal account not even an option but a necessity.

There are no particular requirements to create a PayPal account, but for South African users, there are specific rules that one needs to follow.
To create a PayPal account in South Africa, here is what you need to do:
Go to the main website www.paypal.com.
Then click on the Sign-Up button on the top of the screen.
Now select what kind of account you want to create – Personal or Business.
Enter your details and credentials.
At last, accept the terms and agreements.
You have now successfully created a PayPal account.
One must remember that PayPal accounts need verification.
So you must have all the FICA documents ready like proof of identity, residence address and proof, and a recent bank account statement.
Recommended reading: Zip codes and Postal codes, What do you need to know?
What Are The Requirements For Financial Intelligence Center Act (FICA) When Using PayPal?
The FICA was introduced on 1st July 2003 to fight financial crime. It helps prevent money laundering, tax evasion among others.
There are about ten (10) categories of people that the FICA identifies and whose information is needed in any financial circle.
The list below outlines the various groups:
Individual
Minor
Non-Residential individual
Estate Late
Trust
Company
Non-Resident Company
Close Corporation
Partnership Account
Unincorporated entities
Below are the FICA documents required for individuals:
Copy of  National Identity document for South African citizens and Passport for foreigners.
Proof of address: These documents should be less than 3 months old. It may include a utility bill, shop account statement, Municipal letter, bank statement with an address.
NB: Some people may not have proof of address in their names and in that case they can provide a declaration by a third confirming that you stay in the same house and hence share the same address.
You will need a copy of the South African Revenue Service (SARS) document which confirms your income tax number.
A copy of your bank statement confirming your personal banking details. This should be less than three months old.
For the requirements for the rest of the categories in individuals, see the guide by PSG.
Steps To Successfully Verify Your PayPal Account In 2021
Once an individual has created a PayPal account, it needs to be verified and then registered to a bank account.
Getting verified and registered can give a number of benefits to the user.
Here are the steps to successfully verify your PayPal account in South Africa:
Go to your PayPal account and select "Add/Edit Credit Card".
Fill in all the required fields like name, card details, and billing address.
Once the details have been filled, PayPal will charge a minimum amount for the verification process, which will later be reimbursed.
After the card has been added, go to "Add/Edit Credit Card" and click on 'Confirm my card'.
To proceed with the process request for your 4 Digit Code.
For this step, PayPal will again charge a small amount, which will be reimbursed within 4-5 working days.
After you have received the code, add it using the same process mentioned above and follow the instructions.
This whole process makes your PayPal account verified.
What Are The Steps For Linking PayPal Account To Your South African Bank?
After the verification process has been done, below are some steps to connect your PayPal account with any South African bank:
1. Go to First National Bank's website and click on Register for FNB PayPal Service.

2. Select the type of PayPal account you are registering with.

3. Then confirm if you are a user or bank with FNB or not.

4. Click on I Do Not Bank With FNB

Note that this process is done to link PayPal with any South African Banks.
5. After that, you will have to fill up the registration form with your details.
Then, create your user ID and password with FNB bank.
Confirm the page and details that you have given, and then download the PDF.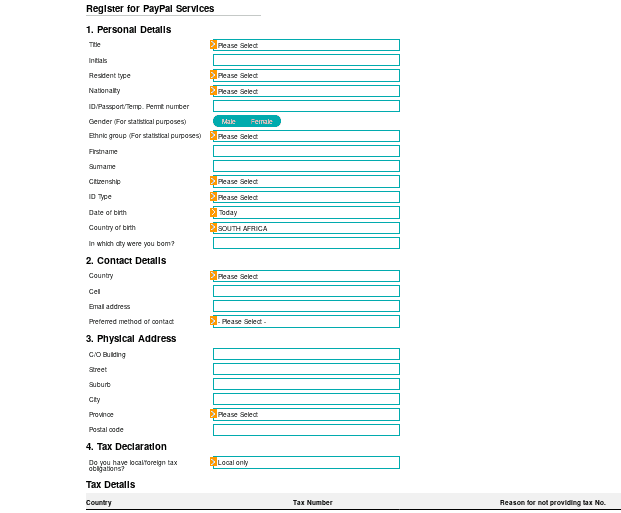 6. Click on Submit
This PDF document will also mention where one has to submit their FICA documents.
After the whole process is done, you can verify with PayPal with your particular bank account.
Recommended reading: List of the Best Insurance Companies, and which one is good for you?
Which Banks Support PayPal in South Africa?
The official bank in South Africa to transact with PayPal is the First National Bank (FNB).
The FNB has however opened up access to the PayPal service so that people with accounts at any of the South African banks can link their bank accounts to their PayPal account and send or receive money.
Anyone who has registered with FNB PayPal banking services can access and link PayPal with any South African bank account.
Major banks like ABSA, Nedbank, as well as Standard bank all can be linked to PayPal in South Africa.
How To Link Your Credit Card With PayPal Account In South Africa?
To add a Credit Card to your PayPal account, follow these steps:
Open your PayPal account home page.
Click on "Wallet" at the top of your page.
Then, click on "Link a payment method" and select "Credit Card".
Now fill in the details and follow the instructions to confirm and verify the card.
READ ALSO: Top 5-Star Hotels In Kenya To Book Now.
What Can You Do With PayPal In South Africa?
For those South Africans and even anyone who owns a PayPal account, these are some of the things you can use your PayPal account for:
Sellers can receive payments from customers in over 190 countries and regions around the globe.
Use your PayPal account to make or receive international payments for goods and services online.
Securely pay for items and send money without sharing your credit card details.
You need to check out quickly and safely at your favorite online stores.
Shop online: PayPal is supported by merchants in over 67 countries and regions all over the world.
Like I said earlier sending money or making payments online can be done in several ways in South Africa and not only through PayPal.
Most eCommerce shops accept payments through Xoom, Venmo, and other means of money transfers.
How To Withdraw Money From PayPal Account?
To withdraw money from your PayPal account, follow these steps:
Open your PayPal account main page.
On the left side of the screen, click on PayPal Balance, and then select Withdraw Money.
Enter the amount you want to withdraw and also select the withdrawal method.
Review the details and then click on Withdraw.
After following the steps above, you will be able to easily withdraw money from your PayPal account in South Africa.
You can use the method described above to withdraw money from both your personal PayPal and business PayPal accounts.
Recommended reading: Personal training Business Ideas.
How To Find PayPal Routing Number Or Account Number For Direct Deposit?
To find your routing number for PayPal, follow the steps below:
Go to your profile
Click set-up or view direct deposit
You will see the routing number and account number displayed if you have direct deposit enabled on your account.
Conclusion
PayPal is a user-friendly online money transfer system that can be linked with any bank in South Africa.
It gives users the option to extend their business and use this fast transfer process and also helps individuals with easy banking and shopping experience.
PayPal in South Africa is obviously one of the safest and most convenient means of transaction for those who want to enjoy the benefits of digital banking.
One must be careful to verify and register their accounts to enjoy the full benefits of PayPal.
If you have found this guide helpful, share it with others.
If you also have any issues or any suggestions to make feel free to share your opinion in the comment section below.
Is PayPal Available In South Africa?
Yes. PayPal is available in South Africa. You can register for an account using the information provided above.
Please you need to take note of the PayPal South Africa terms and conditions.
How Does PayPal Work In South Africa
Here is how PayPal work in South Africa:
Visit the PayPal South Africa main website.
Create an account.
Verify your details.
Connect your PayPal account to your South African bank.
Finally, use your account to send or receive money in and outside South Africa.
That is how PayPal works in South Africa.
This simple and easy article Was Last Updated on by Nana Abrokwa
Please you wish to visit this post "https://thebusinessalert.com/paypal-south-africa/" ocassionally for changes and updates that we will make to this article.
Check this ultimate guide: https://thebusinessalert.com/sunlearn-student-portal-login/
In the year 2022, we bring you the best of banking and money transfer experience. Just stay tuned for more articles.
Check this ultimate guide: https://thebusinessalert.com/irs-code-290/
Here is the main list of our latest guides for May 2022, check them: