Kakum National Park is one of the most famous tourist attractions in Ghana. In today's article, we will show you the Kakum National Park entrance fees, working hours as well as some interesting pictures.
For those tourists and visitors who have heard of the Kakum park in Ghana and want to visit the place, I have put together all that you need to know about the place.
Such as the location, and direction to the park, fees and various charges you should be aware of, hiking, and other tours.
The canopy walkway and your means of accommodation will also be addressed extensively.
What to Expect At the Park
The Kakum park is mostly known for its series of viewing platforms where tourists can have numerous wonderful views.
What adds to the pleasure is the fact that these platforms are linked together by a long bouncy suspension rope bridge with a height of about 40 meters above the ground.
When the people of Cape Coast talk about the sky being the limit, then they are referring to the Kakum forest.
To enjoy the bouncy bridge, you need to exhibit some courage.
While no one has ever fallen off the suspension bridge, it is not uncommon for some tourists to refuse to climb the bridge out of fear.
Besides, there are lots of fun to enjoy on the bridges.
They are not only bouncy but also swing from left, right and in any direction.
Even if you are afraid of walking on the bouncy bridge, the park still offers some other tourist attractions like wildlife and medicinal plants.
It might interest you that the park houses more than 40 species of mammals, 600 species of butterflies, and about 300 species of birds.
So, you will not get tired of taking shots after shots.
In fact, every scene in the park is shot-worthy.
However, it is important to arrange with a guide if you really want to see the animals and most other interesting places.
Related article: List Of Biggest Dams In South Africa.
Location Of The Kakum National Park And Direction To The Place
The Kakum National Park is located in the coastal environs of the Central Region of Ghana on the Cape Coast Jukwa road.
You should really not bother much about the location and direction because the park is popular.
You can get a cab to take you directly there no matter which airport or from which region in Ghana you are coming from.
In addition, some of the hotels near the park offer free airport shuttle services and car rental so for the tourists who are coming from outside Ghana, you are assured of a safe trip.
So if the park is your major attraction for visiting Ghana, you can book a reservation in any of the hotels that are close to the Kakum National Park.
Kakum Working Days (Opening And Closing Time)
The park opens at 6am and closes at 5pm each day of the week.
However, the opening hours may be different on Christmas and other holidays.
Kakum National Park Entrance Fees and Rates For 2021
You may be wondering how much does it cost to visit the park. I will be frank with you.
Kakum park is one of the cheapest tourist sites. The entrance fee is just GHC 2.00 per person. That is less than half a dollar.
The prices for other facilities are listed below:
Canopy walkway: Adult Ghanaian – GHC 25.00, Non-Ghanaian adult – GHC 60.00. Ghanaian Pupil/Child – GHC 4.00, Non-Ghanaian pupil/child – GHC 30.00
Hiking in the Forest: Adult Ghanaian – GHC 20.00, Non-Ghanaian adult – GHC 50.00. Ghanaian Pupil/Child – GHC 2.00, Non-Ghanaian pupil/child – GHC 15.00
Birdwatching: Ghanaian – GHC 40.00, Non-Ghanaian – GHC 90.00
Animal Viewing: The rates for both Ghanaians and foreigners are the same. Adults are charged GHC 25.00 and students pay GHC 5.00
Commercial Purposes: For commercial photography and filming, the prices are different.
If you are using a still camera, you will be charged GHC 400.00 while for those using video cameras the price is GHC 1000.00.
In any case, you have to contact the Site/Park Manager before any commercial activity can be done.
Car Rentals And Transportation At The Park
There is a car hire service in the park. Cars are grouped as either economy class or compact class.
Both of them take a maximum of 4 people.
Midsize cars and SUVs are also available and they take a maximum of 5 people each.
However, you must book a reservation before your arrival because the number of vehicles available is not enough to serve all the visitors.
For the foreigners who are visiting the park for the first time, I entreat you to beware of some of the Taxi drivers as they may charge you unreasonably high transport fees.
Local Tour Guide at the Kakum Park
Local tour guides are available.
You can hire one of them to take you around and also give you insight into the various places in the park.
While you could tour the park on your own without a guide, it is safer and more interesting with knowledgeable and courteous tour guides.
Recommended reading: Best Places To Visit In Africa.
The Kakum Canopy Walk
As we have seen in the earlier section of this guide, what has put Kakum on the map apart from its rich animal and plant species is the canopy walk.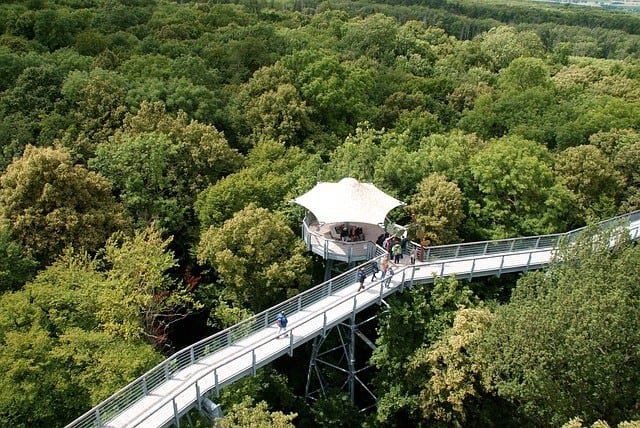 It is located in the thick tropical jungle of the national park.
This feature gives the best feeling in the park and it is also the scariest.
The Canopy walkway is nothing but walking on the rope bridge.
Looking down from the bridge is definitely not for the weak and coward tourists.
No doubt that high fliers and mountain climbers will have fun on it.
For safety reasons, the bridge has been guided on both sides by a series of intertwined ropes.
Birdwatching Tours
Birdwatching is a wonderful experience at the Kakum Park in Cape Coast.
As mentioned earlier, there are more than 300 species of birds in the park.
Your tour guide will advise you on the best locations and times for you to view a lot of birds.
Medicinal Plant Tours
There are numerous medicinal plants in the park. Some of the tour guides are aware of some of the plants.
They should be able to tell you the health benefits of some of the plants.
Medicinal Plants At Kakum Forest
However, they don't know it all so don't use them as a substitute for your medical doctor. The benefits of herbs are infinite.
Best Time To Visit The Kakum National Park
As far as the climate of the area is concerned, the best time to visit Ghana generally is between November and March.
This is because there is little or no rainfall during this period and every part of Ghana is easily accessible then.
With respect to the Kakum park, the most interesting time to visit are during holidays and weekends.
This is because a lot more people visit the place during these times and also charges per head is reduced when more people are taking around.
Moreover, the cost of transport is less during such times.
Avoid the period between April and October because Ghana is usually wet then unless that is what you want.
Read also: List Of Best Hotels in Kenya.
Accommodation At The Place
There are several hotels and guest houses near the Kakum National Park.
Some of them are Elmina Beach Resort, Hotel Loreto, and Coconut Grove Beach Resort.
These hotels are not as expensive as the Kempinski Hotel in Accra so everyone can afford them.
In addition, there are several restaurants where you can get different food and drinks.
Conclusively, Kakum National Park is one of the best tourist attractions in Ghana and it will leave a long-lasting memory.
In addition, there are other tourist attractions near the park like the Monkey Forest Reserve, where you will see several species of monkeys, alligators, and turtles.
Also, nearby is Domana Rock Shrine that is just 40 minutes drive from the National Park.
Strive to visit them all to make your visit to Kakum Park a complete package.
Yes! I have done my part in giving you such a comprehensive guide on one of the famous national parks in Ghana.
Now it is your turn to let me know your reaction in the comment section.
That is all you need to know about the Kakum National Park entrance fees, working hours, and pictures for 2021.
This simple and easy article Was Last Updated on by Nana Abrokwa
Please you wish to visit this post "https://thebusinessalert.com/kakum-national-park-ghana-tourist-guide/" ocassionally for changes and updates that we will make to this article.
Check this ultimate guide: https://thebusinessalert.com/sunlearn-student-portal-login/
In the year 2022, we bring you the best of banking and money transfer experience. Just stay tuned for more articles.
Check this ultimate guide: https://thebusinessalert.com/irs-code-290/
Here is the main list of our latest guides for May 2022, check them: