In the modern era of technological advancement, even the most
basic household appliances are becoming smarter and more efficient.
The Honeywell Home RTH6580WF Wi-Fi 7-Day Programmable Thermostat is a prime example of how intelligent design and connectivity can revolutionize the way we control our home environments.
This innovative thermostat, brought to you by Honeywell Home, a trusted brand known for its cutting-edge solutions, offers a plethora of features and benefits that contribute to energy savings, convenience, and comfort.
In this article, we'll delve into the technical details and explore why the RTH6580WF is a must-have addition to any home.
Technical Specifications and Features:
The Honeywell Home RTH6580WF Wi-Fi Thermostat boasts an array of technical specifications and features that set it apart from traditional thermostats.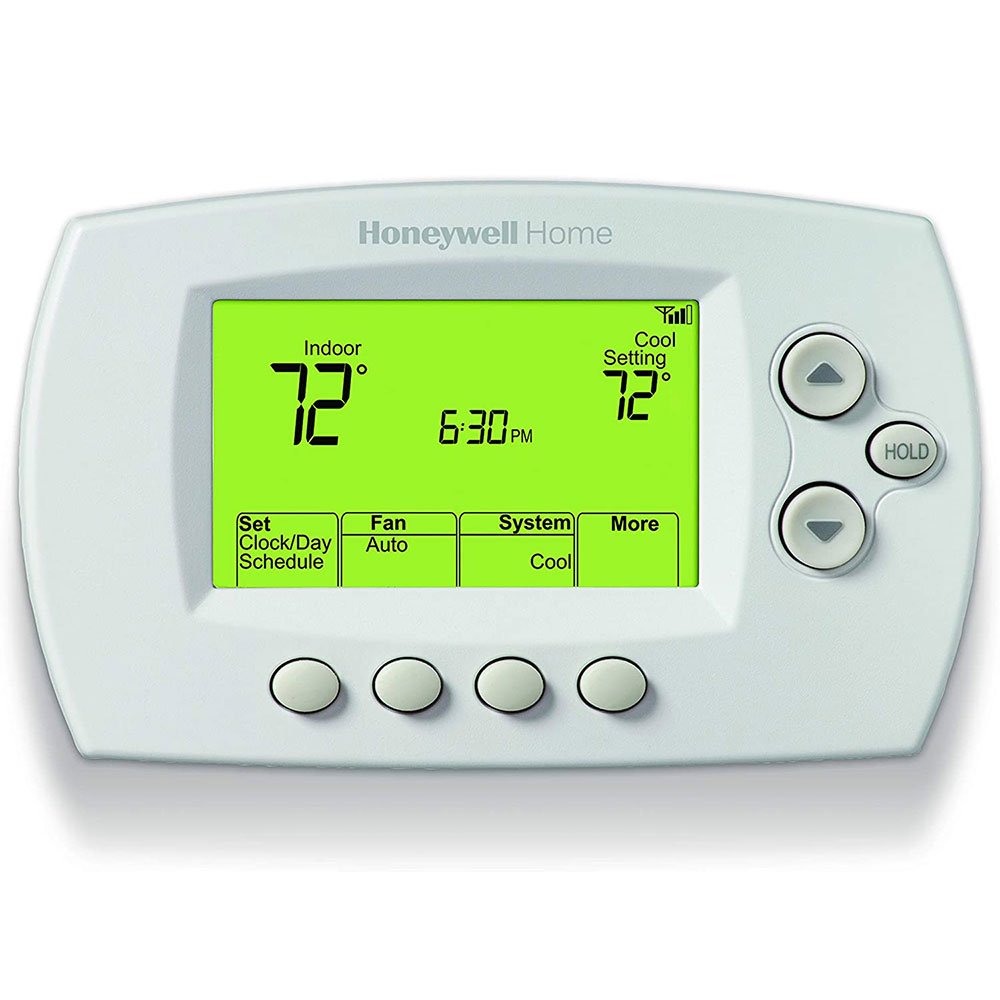 Let's take a closer look at what makes this device an intelligent and efficient climate control solution.
Design and Compatibility:
The RTH6580WF features a sleek and modern design with its rectangular shape and crisp white finish.
This design ensures that it seamlessly blends into various home interiors, adding a touch of elegance to any room.
It is compatible with a range of heating and cooling systems, including air conditioners, heat pumps, and furnaces.
This versatility makes it suitable for a wide range of homes, catering to different climate control needs.
Smart Connectivity:
One of the standout features of the RTH6580WF is its seamless integration with various smart technologies.
It can be controlled through various platforms, including IFTTT, Google Assistant, Amazon Alexa, iOS, and Android devices.
This means you can adjust your home's temperature settings using voice commands, smartphone apps, or even set up automated routines using IFTTT.
This level of connectivity enhances user convenience and ensures that you're always in control of your home's climate, even when you're away.
Energy Efficiency:
The RTH6580WF is Energy Star certified, a testament to its commitment to energy efficiency.
With its Smart Response Technology, the thermostat learns your preferred temperature settings and adapts to your schedule, ensuring that your home is at the perfect temperature when you need it, without wasting unnecessary energy when you don't.
This intelligent feature not only maximizes comfort but also contributes to reduced energy consumption and lower utility bills.
Wi-Fi Enabled:
Equipped with Wi-Fi connectivity, this thermostat takes climate control to the next level.
You can monitor and adjust your home's temperature remotely through the dedicated app, giving you the flexibility to create a comfortable environment before you even step inside.
Whether you're coming home from work or returning from a vacation, the RTH6580WF ensures that your living space is just the way you like it.
User-Friendly Installation and Interface:
Setting up the RTH6580WF is a breeze, thanks to the included components like the thermostat ID card, wall plate, and wire labels.
The quick start guide and reference card provide clear instructions, making installation a simple DIY project. Once installed, the LED display offers an intuitive interface that allows you to easily navigate through the various settings and options.
Versatile Control Methods:
The thermostat offers multiple control methods, catering to different user preferences.
You can control it through the dedicated app on your smartphone, interact directly with the touch controls on the device, or even utilize voice commands through platforms like Amazon Alexa or Google Assistant.
This flexibility ensures that you can adjust your home's climate in a way that suits your lifestyle.
Auto Changeover and Daylight Savings Time Ready:
The Auto Changeover feature is particularly useful for homes with both heating and cooling systems.
It automatically switches between heating and cooling modes, maintaining a comfortable temperature regardless of the weather outside.
Additionally, the thermostat is Daylight Savings Time Ready, meaning it will adjust its schedule accordingly, saving you the hassle of manually changing the settings.
Dimensions and Build Quality:
Measuring at just 1.5 inches in depth, 5.75 inches in width, and 3.5 inches in height, the RTH6580WF has a compact form factor that fits seamlessly on your wall.
The plastic build ensures durability while keeping the device lightweight. Its white finish not only complements various interior designs but also gives it a clean and polished look.
Conclusion
The Honeywell Home RTH6580WF Wi-Fi 7-Day Programmable Thermostat offers a compelling blend of smart technology, energy efficiency, and user-friendly design.
Its compatibility with various platforms, including IFTTT, Google Assistant, and Amazon Alexa, makes it a versatile addition to any modern smart home setup.
The Energy Star certification, Smart Response Technology, and Wi-Fi connectivity contribute to lower energy consumption, reduced utility bills, and enhanced comfort.
Whether you're looking to create a comfortable environment for your family or seeking ways to optimize your home's energy usage, the RTH6580WF is a reliable and intelligent solution that promises convenience and efficiency.
In a world where climate control and energy efficiency are paramount, the Honeywell Home RTH6580WF Wi-Fi 7-Day Programmable
Thermostat stands out as a beacon of innovation, offering a smarter way to manage your home's temperature while contributing to a greener and more sustainable future.
This simple and easy article Was Last Updated on by Nana Abrokwa
Please you wish to visit this post "https://thebusinessalert.com/honeywell-home-rth6580wf-wi-fi-7-day-programmable-thermostat/" ocassionally for changes and updates that we will make to this article.
Check this ultimate guide: https://thebusinessalert.com/sunlearn-student-portal-login/
In the year 2022, we bring you the best of banking and money transfer experience. Just stay tuned for more articles.
Check this ultimate guide: https://thebusinessalert.com/irs-code-290/
Here is the main list of our latest guides for May 2022, check them: