What is ROI? Why does everyone talk about it and how to use it to generate more revenue in your business? Most digital marketers are confused on how to calculate ROI for their companies.
Do you also find yourself in that situation? Don't worry because we've got you covered.
To improve the performance of your business on an ongoing basis, you need to differentiate which strategies work well and which do not.
A study by ZenithMedia reveals that social media ad spending is estimated to rise by 21 percent to $58 billion globally while video ad spending is increasing by 19 percent to $32 billion in 2018.
At 42 percent of total expenditure, search ads like those on Google remain the most significant form of online advertising, expected to reach $95 billion this year.
With these figures I can't help but ask if all that money spent judiciously?
If you are here only to learn how to calculate return on investment (ROI), then watch this awesome and simplified video by Ron Phillips from RPC Invest.
I know some people may not be familiar with some of the terms used by Ron. Even if you understood the whole concept, congratulations, but there is more to that.
I therefore urge you to continue reading and get the full picture of return on investment.
Maybe you've already guessed, but yes, ROI is a bit complicated and in this article we're going to focus on analyzing what it is and why it is crucial for your online business (whatever it is).
Recommended reading: How To Download and Use WhatsApp for Business.
Return On Investment Analysis
The return on investment or ROI is one of the most useful metrics we should know when assessing our businesses.
As a matter of fact, it gives us information about whether we are making a profit or not through the investment we are making.
For example, if you are running an affiliate marketing campaign, your return on investment can indicate a gain or loss of investment.
It is the relationship between the amount invested in a business and the value obtained in return. Return on investment is used frequently to identify whether an investment is worth it financially.
The goal of the ROI is to know if an investment is efficient and profitable. In fact, in the long and short term, an investment must be a source of earnings to be termed beneficial.
Here are a couple of simple and practical tips to show you how to calculate it and make decisions based on the result.
Read also: How to Find The Best Real Estate Companies.
WHY SHOULD I CALCULATE THE RETURN ON INVESTMENT?
The main objectives of calculating the ROI are to analyze performance and assist in decision-making. Knowing the outcome of a particular investment, you can align your strategy by reinforcing some investments or on the contrary, by removing them.
In any case, you must be careful. The return on investment has some limitations.
For example, the ROI does not take into account: other benefits (improvement of customer satisfaction for example) based on purely economic and financial data.
Bondora, the leading peer-to-peer lending platform for investing in European loans calculates the net return on investment using XIRR, known as Extended Internal Rate of Return.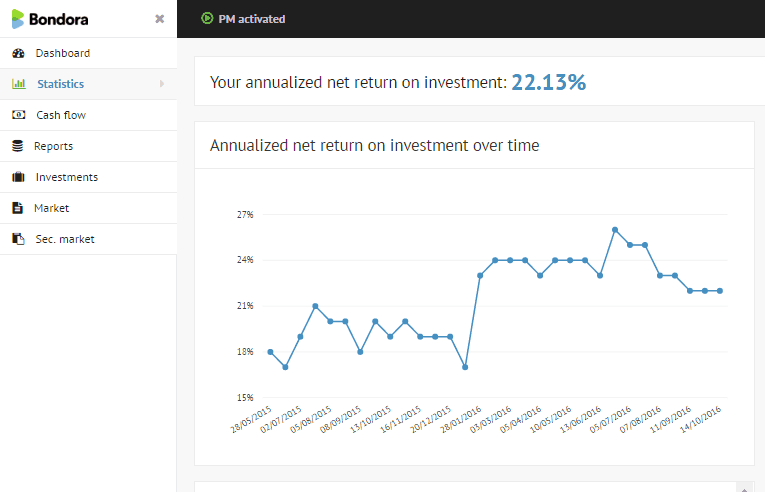 This is a conventional method of calculating ROI for cash flows when they are irregular, unlike a mortgage that is paid the same amount monthly over time.
What Is The Formula For Return On Investment (ROI)
Return on investment (ROI) is the ratio of a profit or loss made in a fiscal year expressed in terms of an investment.
It is expressed as a percentage of increase or decrease in the value of the investment during the year in question.
To calculate the marketing ROI, you need to break down the income in three different ways:
The revenue generated by the sales of the product.
Money spent on your campaign or any other.
Profit, which is the difference between total revenue and costs to create your campaign.
ROI = (Net Profit) ÷ (Total Investment) × 100%
Net profit represents the amount of sales remaining, after all operating expenses, interest, taxes and preferred stock dividends.
Thus, Net Profit = Value Obtained − Total Value of Investment
If you get a positive result, it means that you have made a profitable investment. However, if it is negative, then you need to advise yourself since you are not making anything out of the investment.
What Are Examples Of How To Calculate ROI?
Assuming you have an online business and you spend $100 on an advertising campaign, but I made $400 in sales.
ROI = (($400 − $100) ÷ $100 ) × 100%
= (300 ÷ 100) × 100%
ROI = 3 × 100%
Therefore, ROI = 300%
First, it seems profitable, right?
But if instead of $ 400, sales was $ 100 it would be evident that this campaign did not work.
That's what it helps to see the ROI as the profitability of each strategy.
Why is it a mistake not to measure ROI and what should be analyzed?
As a general rule, we could say that everything that is not measured, is not controlled. If we do not measure the ROI of our actions, what we do is make decisions under assumptions.
And that usually does not end well.
What Are The Factors That Affect The Accuracy of ROI
Also, you have to value the ROI taking into account this fundamental fact that not everything that is invested is money.
It is true that your time is invested but cannot in any way be measured given the formula for ROI above.
Not all the investments made in business are always economical. If you are a freelancer who has just started, it is normal to invest more time than money, but that does not mean you should not measure.
For example, imagine that carrying out a particular task costs $100, but it took you 5 minutes to complete it. Now compare it with another one that costs $100, but that involves working all week on it.
Come to think of it, are you making any productive return on investing that time?
Here is another practical example but considering time:
You make a sales campaign in which you spend $200 and with which you get $600 of benefits.
The formula for ROI would be like this:
(($600 − $200) ÷ 200) × 100% = 200% (the ROI is always expressed as a percentage).
But remember what we said before, you should also value the effort you invest in your time. Imagine that your work hour is quantified at $5 per hour and you have invested 20 hours in carrying out the campaign. That's $100 more investment.
∴ ROI = ((600 – 300) ÷ 300) × 100% = 100%.
As you see, the subject changes.
This could be more complicated since we could include other expenses, but to understand the idea, this is more than enough.
Recommended reading: Complete Guide to Create Personal PayPal Account.
ROI Calculator
For simplicity and comfort, you can calculate your return on investment pretty fast using online calculators for ROI such as of calculator.net, Omnicalculator, and Financial-calculators.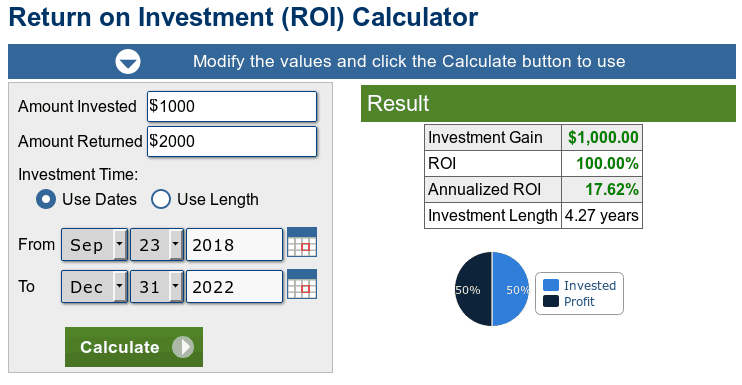 If you have a solid business plan, your sales will soon pay for everything you have invested. You will still have extra money to promote your product.
Plan your actions and follow your indicators to know if you are getting what you expect.
In the case of marketing, when you know the ROI of your campaigns, you can identify which one has the best result.
Valarie Badame, Author of Hubspot, intimated in a post titled "Website Localization ROI" that demonstrating website localization ROI has never been an easy task.
For lack of concrete data, marketing and localization managers are often forced to improvise — selling the concept in vague terms.
It's a commonly held belief that the benefits of website localization cannot be accurately measured.
That notwithstanding, a very lovely and smart method was devised to calculate the return on investment for website localization.
What Can You Do With These Results Of ROI?
After assessing your return on investments, you can do the following:
Stop the campaign that has the worst performance.
Modify elements such as a call to action, writing style, and images, and then check which variation has the best results. Meaning you have to check a component at a time and take note of the performance of each variable.
Invest more money in campaigns that have more conversion rates.
A study by Hafiz Mohammed Ali shows clearly that though 21% of marketers focus on SEO, 20% on Content Marketing. Just 12% specialize in conversion rate optimization.
Hafiz discovered that digital marketers who specialize in conversion rate optimization would be among the highest-paid digital marketing professionals in the United States.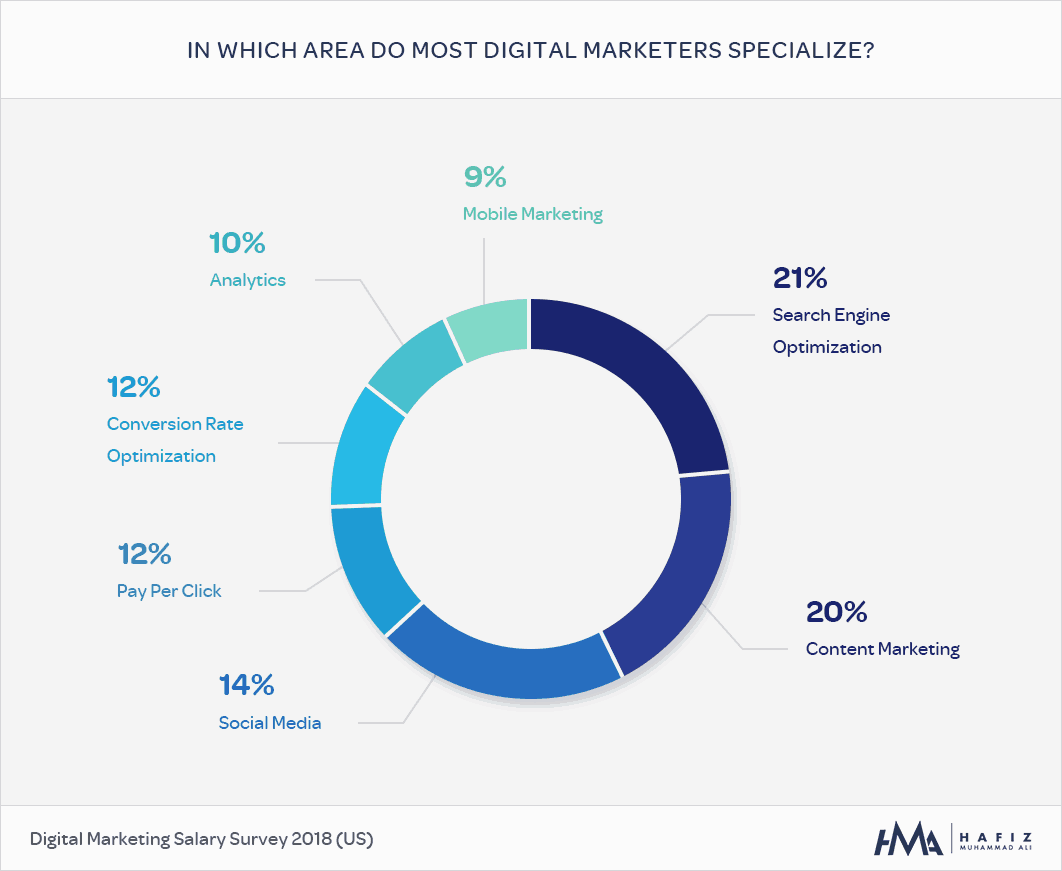 In addition to campaigns, other marketing networks need to be tracked to see if your efforts are delivering results. This e-mail marketing, social networking, blogging, etc.
Now that you have learned how to calculate the ROI, it is important to understand these numbers to improve your actions in the future.
Say an Ad has a high click-through rate, a high impression, but the conversion is low.
What does that mean?
Maybe the landing page of this Ad is not well crafted, the call to action is not persuasive enough, or the visitor finds nothing exciting on the site.
The problem may also be with the segmentation of the campaign, which sends unqualified leads to your landing page.
Probably they are not ready for the purchase.
Whatever the reason for the poor performance of your campaign may be, you must do some testing until the ad is in line with the interests of your persona and more consistent with your offer.
Why Do You Need to Measure The ROI of Your Ad Campaign?
As you may have noticed from the beginning, the return on investment is just one of the measures that can be used to understand the needs of your brand.
With careful analysis of these data you can do the following:
You will identify the primary sources of revenue for your business.
It will help you identify the most effective communication networks to promote your product.
You can check if the performance of your marketing campaigns is consistent with what you have planned.
You will then be able to develop strategies to continuously grow your sales and ensure the continuity of your performance.
That is why 42% of marketers say proving the return on investment of their marketing activities is their top marketing challenge. (HubSpot, State of Inbound 2017)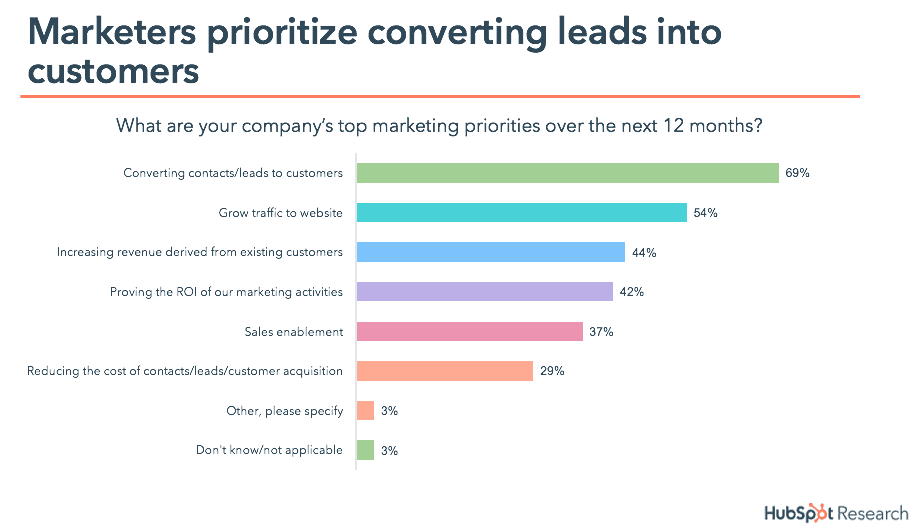 For a correct analysis of the ROI, you need to differentiate the measures that help strengthen your business from those that only bring more visibility, but do not convert into leads or sales.
For example, increased traffic to your blog may indicate that published content is attracting new visitors.
Therefore, to calculate the ROI  these are the numbers that matter:
The amount of those visitors that turn into leads,
Those who sign-up on your email list
And those who buy your product.
You still need to attract traffic to your blog and fetch more subscribers to your Facebook page.
These numbers are indeed crucial for you to become an authority in your field.
But for that to be an important step, turn that traffic into leads, then leads into sales and brand promoters.
Happy Marketing
Have you ever bothered to calculate the return on your investment?
What factors did you analyze?
Did you get a positive number or it was negative?
Describe your experiences in the comments below.
If you found this article useful, then feel free to share it with your friends.
But if you identified any issues, broken links, etc. let me know.
The World has not come to an end. We can still make it a better place!
Recommended reading:
This simple and easy article Was Last Updated on by Nana Abrokwa
Please you wish to visit this post "https://thebusinessalert.com/how-to-calculate-roi-marketing/" ocassionally for changes and updates that we will make to this article.
Check this ultimate guide: https://thebusinessalert.com/sunlearn-student-portal-login/
In the year 2022, we bring you the best of banking and money transfer experience. Just stay tuned for more articles.
Check this ultimate guide: https://thebusinessalert.com/irs-code-290/
Here is the main list of our latest guides for May 2022, check them: