Barclaycard arrival plus world elite MasterCard has been one of the favorite cards for use for both local and foreign transactions by many. This is because it has so many benefits over the other cards based on reviews by users as well as experts. Barclaycard offers an excellent credit score, and you can redeem miles with your points.
That's because the card earns "miles" that can be redeemed for any travel purchase — from airline award taxes and fees to Airbnb stays.
The Barclaycard Arrival Plus World Elite Mastercard has a decent rewards rate, a good sign-up bonus, flexible redemption rules, and a relatively low annual fee.
If you live in the United States, Barclays Bank is not a household name like Bank of America or Wells Fargo, but around the world, it is one of the most respected names in the banking industry.
Barclays, Santander, and Lloyds are among the popular banks in the UK.
For a financial institution, the survival of more than 300 years through depressions, recessions, and multiple world wars is impressive.
That's why Barclays is one of the most trusted names in the banking industry in the world.
The Barclays Bank
Barclays was founded in 1690 by two goldsmith bankers (John Freame and Thomas Gould) in London.
In 1736 James Barclays (John's son-in-law) became a partner, and the bank would eventually take his name.
Barclay's is now the seventh-largest bank in the world with $ 2. 41 trillion assets.
Barclays Bank International branches: Barclays Group operates in 50 countries across Europe, Asia, Africa, the Middle East, and America, and employs more than 130,000 people worldwide.
Barclays bank has only 74 branches in the UK.
And the bank knows credit cards very well. Barclay gave the UK its first credit card and gave the world the world's first ATM.
Barclays could not find market share in the United States, but it's working hard to change that.
Review of The Barclaycard Arrival Plus World Elite MasterCard
The Barclaycard Arrival Plus ™ World Elite MasterCard is a top-end rewards card.
You get two points for every dollar spent – period.
There are no categories that only last for a limited time or other confusing rules.
You can redeem your points for cash, extract credits, and gift cards.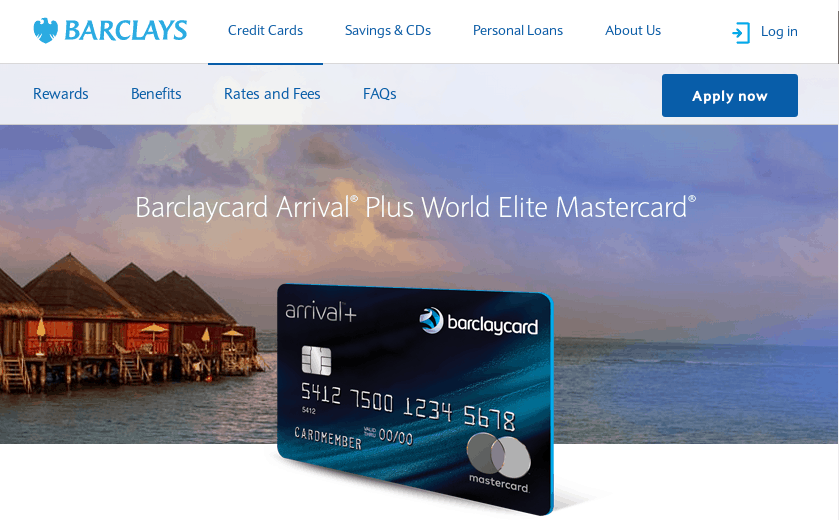 Picking one travel credit card over another often means making compromises, but the Barclaycard Arrival Plus® World Elite Mastercard® checks pretty much all the boxes.
Sign-up bonus: Enjoy 60,000 bonus miles after spending $5,000 on purchases in the first 90 days
Earn an unlimited 2 miles per dollar on all purchases. Each mile is worth 1 cent when redeemed for travel or 0.5 cents when redeemed for cashback.
Whenever you redeem miles, you get 5% of those miles back toward your next redemption. You can start redeeming for travel with 10,000 miles, or 5,000 miles for cashback.
With Barclaycard, You Can Redeem So Much More!
You can redeem your miles for travel and cashback statement credits, gift cards, and merchandise.
Travel statement credit redemption starts at 10,000 miles for $100, toward a qualifying travel purchase of $100 or more made within the last 120 days.
The minimum for account annual fee redemption within the travel statement credit category is 2,500 miles for $25.
Cashback statement credit and gift card redemption starts at 5,000 miles for $25. Merchandise redemption values vary based on what and why you are redeeming.
Cardmembers can log on to our website, BarclaysUS.com, to review redemption options and to redeem miles. Select Rewards & Benefits from the Account Summary page and follow the online instructions.
Barclaycard Offer EMV chip-and-PIN capability:
Also useful for travelers: the card comes with an EMV chip that gives you additional security in the United States and also allows you to pay with ease while traveling abroad.
No foreign transaction fees
The annual fee is $89 (waived the first year)
Travel Benefits: There are no foreign transaction fees on this card.
Also, the Arrival Plus is one of the very few credit cards to have the chip-and-PIN capability, making it an excellent choice to use overseas where chip-and-PIN cards are the standard.

Per the terms and conditions, you can redeem these miles for purchases from airlines, hotels, motels, timeshares, campgrounds, car rental agencies, cruise lines, purchase and travel agencies, discount travel sites, trains, buses, taxis, limousines, ferries, and the annual account fee as defined by the merchant category code.
Outstanding Features of Barclaycard Arrival Plus World Elite Mastercard
Cardholder Protection
Access to an identity-theft helpline.
Built-in travel and purchase protections, including purchase security, trip cancellation, and interruption insurance, auto rental collision damage waiver, and more.
Access to the Barclaycard Travel Community, which rewards members with miles when they share their personal travel stories.
High rewards rate
Earning 2 miles per dollar, at a value of 1 cent per mile, gives the card a rewards rate double the industry standard of 1 percent.
The 5 percent redemption bonus boosts the effective rate to 2.1 percent.
$0 Fraud Liability protection
Meaning, you are not responsible for unauthorized charges you report to them.
Big sign-up bonus
Hit the spending threshold, and you're well on your way to a free trip.
APR For Balance Transfers
0% introductory APR for 12 months on balance transfers made within 45 days of account opening – after that, a variable APR will apply, currently 17.74%, 21.74%, or 24.74% based on your creditworthiness.
Flexibility
With the Barclaycard Arrival Plus® World Elite Mastercard®, you can use your miles for almost any travel purchase, and you can book however you want.
Reserve directly with an airline or hotel, or a travel agent or discount travel site.
As long as you pay with your Barclaycard Arrival Plus® World Elite Mastercard®, you can reimburse yourself with your miles.
This flexibility is especially great for budget travelers who like to look at all their flight and hotel options to find the best deal.
And because you book like a regular traveler, there are no blackout dates or other restrictions, as there often are when you try to redeem frequent flyer miles.
Earn Miles by Just Sharing Stories.
Earn more miles for sharing travel stories in the new mobile-friendly Barclays Travel Community
You Can Use Barclaycard Overseas With No Limitations
Like any good travel card, the Barclaycard Arrival Plus® World Elite Mastercard® has no foreign transaction fees.
Plus, the card has a Chip-and-PIN capability. Chip-and-PIN is standard in much of the world but rare on cards issued in the U.S.
When traveling abroad, you'll find that many kiosks and other automated payment systems require you to use a PIN to verify your identity, rather than a signature.
That's not a problem with the Barclaycard Arrival Plus® World Elite Mastercard®.

Barclaycard Cardholder Benefits
This card is on the World Elite Mastercard platform, which provides high-end benefits for cardholders. These include:
Complimentary concierge service and a personal travel advisor are available to help you plan trips.
Access to the Luxury Hotels & Resorts and perks like complimentary breakfast.
Upgrades and discounts on certain airlines; discounts on chauffeured car services and private jets; and discounts on cruises and vacation packages.
Free Fair Issac Corporation (FICO) credit Score
Other advantages include a free FICO credit score – something that is becoming the industry standard – and alerts you when your credit score changes, but this feature is not available until your account has been active for at least 150 days.
How do I check my Barclays credit score?
Log into or register for Barclaycard online servicing.
Select Experian Credit Score under "Transfers & offers" or "Account Services" and fill in your details – it only takes a few minutes.
Sign up on the go with our app.
Just go to "Your Account".
Tap on "Experian Credit Score" and follow the instructions.
Barclaycard arrival plus credit score needed.
You have a good shot at most cards if you have at least a good credit score of 670 or higher.
However, Barclays Bank is more selective than other lenders.
When you apply for the Barclaycard Arrival® Plus World Elite Mastercard®, aim to have an excellent credit score of 720 or higher.
How Do You Earn miles With Barclaycard arrival plus world elite MasterCard?
You'll earn miles automatically when you make purchases with your Barclaycard Arrival Plus World Elite Mastercard.
You will receive two (2) miles for every $1 you spend on all your purchases.
Please note that your total purchases include those by you and your authorized user(s) and that returns, credits, and adjustments will be deducted from the total.
See also:
This simple and easy article Was Last Updated on by Nana Abrokwa
Please you wish to visit this post "https://thebusinessalert.com/barclaycard-arrival-plus-world-elite-mastercard-ultimate-guide/" ocassionally for changes and updates that we will make to this article.
Check this ultimate guide: https://thebusinessalert.com/sunlearn-student-portal-login/
In the year 2022, we bring you the best of banking and money transfer experience. Just stay tuned for more articles.
Check this ultimate guide: https://thebusinessalert.com/irs-code-290/
Here is the main list of our latest guides for May 2022, check them: