Fidelity Bank Ghana Ltd was established in June 2006, and it was formerly known as Fidelity Discount House. After operating as a discount house for eight years, they converted it to a full bank.
The Bank is owned by Ghanaian individuals, other institutional investors, and its Senior Executives.
The Fidelity bank operates under the Banks and Specialised Deposit-Taking Institution Act of 2016 (Act 930).
The Act is to regulate institutions that carry on deposit-taking business and to provide for related matters.
Nature Of  Business Of Fidelity Bank In Ghana
Fidelity Bank is licensed to undertake universal banking business in Ghana. This has been the primary mode of operation of the Bank.
Other Holding Companies Of Fidelity Bank
The company owns Fidelity Securities Limited (FSL) as well as Fidelity Asia Bank Limited (FABL).
They incorporated the FSL in Ghana as the investment banking arm of the Bank. It focuses on providing fund management, publishing analysis and reports on securities for clients, and issuance of securities.
The FABL is also a company incorporated in Malaysia to carry out the offshore banking business.
How Reliable Is Fidelity Bank Ghana?
According to the 2017 annual report, the bank posted a formidable performance.
It grew its asset base from GHS 4.17 billion to GHS 5.38 billion representing a 29% increase over that of 2016.
From the report for the same year, the net interest income grew by 15% from GHS 356 million in 2016 to GHS408 million in 2017 while net fee and commission income also rose by 25% to end2017 at GHS 86 million.
This translated into a 13% increase in operating income from GHS 461 million in 2016 to GHS 523 million in 2017.
The interest rates of Fidelity Bank Ghana is one the most competitive in the Ghanaian banking industry.
Fidelity Bank Ghana Products and Services
There are a wide variety of products and services offered by the bank.
Their products are divided into four major groups which are personal banking, commercial banking, wholesale banking, and financial inclusion.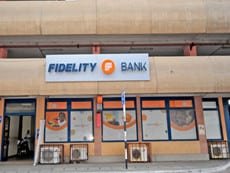 1. Personal Banking
The services under Fidelity Personal Banking include the following:
Opening and maintaining a current account or savings account.
Taking of loans.
Investment services.
Other services like money transfer or remittances.
Types Of Current And Savings Accounts
Fidelity Bank offers four types of current accounts which are
Fidelity 24/7 Current Account
Royal Current Account
Paycheck Plus Account
Non-Resident Ghanaian Account.
Fidelity 24/7 Current Account
This account has no minimum balance requirement. You are free to withdraw or transfer all the money in the account without closing it.
When you open the account, you receive a checkbook and a VISA card, and you will enjoy internet banking and mobile banking services.
Royal Current Account
This is meant for high net worth customers. This is the most suitable account of the "Big Boys" and "Big Girls."
Owners of this type of current account will earn interest on their account if they can maintain an account balance that is higher than a certain threshold.
When you open this account, you will also get a checkbook and a VISA card.
The account is also eligible for internet banking and mobile banking.
Paycheck Plus Account
It is meant for salary earners.
The account is best used as a salary account opened by a company for its employees.
This account offers insurance cover for accident death, permanent disability, job loss, and accident-caused hospitalization.
Non-Resident Ghanaian Account
For Ghanaians working abroad, they can save with Fidelity Bank from any part of the world.
Opening the account offers Ghanaians living outside Ghana the opportunity to invest in Ghana.
This is why the account is not subjected to monthly service charges.
Fidelity Bank Fixed Deposit
The fixed deposit product that is offered by fidelity bank is also an investment account that promises competitive interest rates that enables the customer to earn maximum returns on any amount they invested.
The interest rates are very negotiable on all the various fixed deposit packages.
The period for the fixed deposits ranges from 30 days to 365 days.
And the Fidelity bank Fixed deposit interest rates for this year range from 5.50% to 15.50%.
That is 1 month to 1 year period.
When you choose not to stop your investment before its maturity, Fidelity bank offers you a credit facility against your fixed deposit account.
Types Of Savings Accounts
Fidelity also offers three kinds of Savings Accounts and they are Fidelity 24/7 Reserve Account, Bright Kids Account, and Students' Account.
Fidelity Bank also gives you 12% interest through MTN mobile money.
Fidelity 24/7 Reserve Account
This savings account yields interest on the deposit as long as you don't withdraw from it.
Another good thing about this savings account is that it does not pay monthly service charges.
Owners of this account are entitled to a withdrawal book and a VISA card for internet banking and mobile banking.
Bright Kids Account
The Fidelity Kid account is a high-interest account meant to secure the future of your children.
You only need to be saving into it for your children's education.
Tertiary education is very expensive in Ghana and in most parts of the world. So, the earlier you start saving towards your children's tertiary education, the better.
Fidelity Students' Account
As the name implies, it is a savings account for students.
That is why the account is excluded from monthly service charges.
It comes with a VISA card and a withdrawal book. It is also eligible for mobile banking and internet banking.
FIDELITY FLIP ACCOUNT
For investment, Fidelity Bank offers the FLIP Investment Account. FLIP stands for Fidelity Lifestyle Investment Plan.
The Fidelity FLIP Account has a lot of services to offer its customers.
It is a capital accumulation plan in which you deposit a particular sum of money at the end of every month.
It matures with a specific percentage of interest.
The account also comes with free insurance cover against permanent total disability.
To be able to view the Fidelity FLIP account on the app, it should have the same customer ID (the 5th to 11th digits of your number).
You can then proceed to settings and select Update accounts, and your new account will be available.
Moreover, the Fidelity FLIP account interest rate is very moderate.
How To Take Loan From The Bank In 2021
Fidelity Bank offers both personal and mortgage loans with a low-interest rate.
You may need to visit the loan section of their website to find out the terms and conditions.
For the personal loan, Fidelity Bank can give you a personal loan that you have to pay within 4 years.
Their two types of personal loans are Employee Salary Backed Loans and Employee Scheme Loans.
They also offer mortgage loans to be paid back in 20 years either in Ghana Cedis or in Dollars.
The types of mortgage loans they offer are Home Purchase Mortgage, Home Improvement mortgage, Home Equity Mortgage, and Home Completion Mortgage.
Requirements For Fidelity Mortgage
If you want to apply for the Fidelity Mortgage, these are the requirements:
Fully completed application form
Employer certification of income form
If non-resident, Power of Attorney
Passport pictures
Insurance
Your personal reference form
The requirements and procedure for borrowing money from the bank largely depend on the type of loan you want to take.
You may need to contact customer service for full details on how to borrow money from the bank.
However, you can take advantage of Fidelity Fast And easy Loan by depositing your money with the bank to get a loan within 24 hours.
The loan comes with an annual interest rate of 10% which will be waived if you pay it back within twelve months.
Other Fidelity Bank Ghana Products
With your Fidelity Bank Account, you can receive money from any part of the world.
Through any of the major money transfer agencies like Xpress Money, Vigo, Ria, UnityLink, Transfast, MoneyGram, and Western Union.
In addition, the bank also offers electronic banking services that can be done through Automated Teller Machines (ATM), Mobile Banking, and Internet Banking with your VISA card.
The bank also allows you to keep track of deposits and withdrawals into/from your account.
Requirements For Opening An Account With Fidelity Bank In Ghana
To open an account with Fidelity, you need the following:
Proof of residential address
A valid ID card (National ID Card, Drivers' License, or International Passport)
Two Passport Photographs
Fully complete account opening form.
Your initial deposit.
How To Open A Bank Account With Fidelity Bank
Follow these steps to open a bank account with Fidelity Bank Ghana:
Go to any of the Fidelity Bank branches in Ghana.
Tell the Teller at the banking hall that you want to open a Fidelity Bank account.
They will give you the Fidelity Bank Account opening form.
Fill the form and sign.
Attach your passport pictures to the account opening form.
Add your National Identification card.
Make a deposit to open the Fidelity Bank account.
Finally, add your residence permit if needed.
When everything is successful, you can start using your newly created Fidelity Bank Ghana account.
That is how easy to open a Fidelity Bank account in Ghana.
Fidelity Bank Commercial Banking Products
This category of banking service includes the current account, savings account, export bonus account, call account, and fixed deposit account.
The current account in this category is meant for small and medium business owners. It gives them direct access to their funds 24/7.
Here are the features and benefits of commercial banking activities by Fidelity Bank:
The account pays a monthly service charge.
No minimum balance.
Standing order facility.
Use of checks.
Opening balance of GHS 100
A dedicated relationship manager.
Commercial Savings Account offers a high-interest rate, and its major features are:
Tiered monthly interest based on the amount in the account.
An initial opening balance of GH¢200.
Commission On Turnover (COT) is not applicable.
Call Account is more like an investment account.
The major feature of the account is the automatic transfer of funds from a call account to current accounts and vice versa.
Export Bonus Account is a unique current account designed for exporters.
It comes with credit facilities and free advisory services.
Its major features are:
Concessionary charges.
Free advisory services.
Free Commission On Turnover.
Credit Facility.
A Fixed Deposit Account is an investment account with competitive interest rates.
It allows customers to deposit an amount into the account and select a vesting period from 30 days to 365 days.
The interest rate depends on the vesting period you choose.
Wholesale Banking
This category is for corporate banking and Public Sector & Institutional Banking.
Fidelity Bank offers corporate banking services and capital raising solutions for corporate organizations.
This bank also offers banking services to ministries and other government agencies.
Financial Inclusion
This is meant to provide banking facilities to areas that are unbanked or underbanked within Ghana.
The strategies used are agency banking, the use of Fidelity Mobile App, Micro-finance, and Mobile & Digital Banking services.
How To Get The Swift Code Of Fidelity Bank Ghana
You can get the swift code of the bank by calling their customer service team or by filling their online contact form.
However, the Swift code for Fidelity Bank is FBLIGHACXXX with "XXX" representing the branch code. Sometimes, you may not even need the branch code to transfer or receive funds.
How Does Fidelity Bank Protect Its Customers
The bank has established the Financial Crime Unit to investigate any criminal case that may occur.
This will help expose individuals and groups within and outside the bank who perpetrate any form of crime against the Bank.
Through transaction monitoring, fraud risk assessment, and Staff awareness training, the crime unit has helped in the prevention and detection of crimes.
This has made the Fidelity Bank crime unit one of the most respected teams in the anti-crime ecosystem in Ghana.
Fidelity Customer Service Contact
To contact the bank's customer service, you have to fill their online contact form.
You can also contact them through a phone call, but each of their numerous branches has a different phone number.
Moreover, you have to check their website to find the phone number of the specific office you want to reach out to.
When you fill the online form, you will get a response within 24 hours.
However, when you call, it can take up to 5 minutes before you get to speak with an agent because they usually advertise all their products and services first.
The toll-free number for Fidelity bank Ghana is 3355.
The good news is that you can reach the Fidelity Bank customer service on the following WhatsApp number: +233 577 735745
Contact Fidelity Bank Headquarters
The Head office of Fidelity Bank Ghana is located at 1st to 4th Floor, Ridge Towers, Ambassadorial Enclave, Ridge, Accra, Ghana.
You can also contact their head office on +233 302 214490 and their customer service personnel will assist you.
Fidelity Mobile Banking Code
If you have already registered for the mobile banking service, then that's cool.
The Fidelity Mobile Banking code is *776#. Just dial it and see the services offered on that platform.
Fidelity Bank Mobile App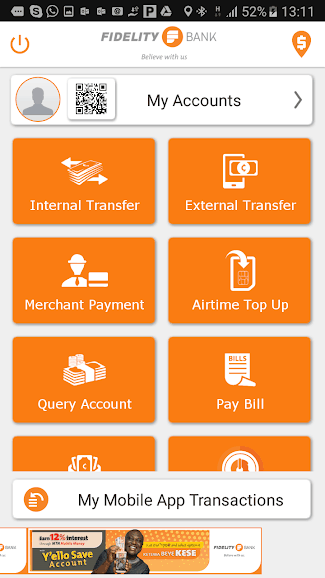 To download and install the app, you can search for "Fidelity Mobile" on Google Play Store or Apple App Store.
Search for the one with the logo of Fidelity Bank Ghana. Download, install it and launch it to register.
To register successfully on the Fidelity Mobile App, you need the following:
The same date of birth that is on the bank's record.
Your Fidelity Bank Account number.
Your Mobile Phone Number
Branch Name
For the full guide, read this: Fidelity Bank Ghana Mobile Banking.
Benefits of Fidelity Bank Mobile App
You can carry out the following transactions on the bank's mobile app:
Pay your utility bills.
Pay for some goods and services.
Do instant money transfers to any bank account in Ghana.
Top up your airtime (calling card).
Book an appointment with the bank.
Locate ATMs and bank branches.
Change or reset your card pins.
Block already issued checks.
Request new checkbooks.
Check your account balance and confirm deposits.
View mini account statements.
Send money to some mobile money wallets.
As you can see, the Fidelity Mobile Banking service is similar to others like Zenith Mobile Banking and the others that operate in Ghana.
Conclusion
This is the overview of the Fidelity Bank in Ghana.
I know you now understand some of the products and services offered by the bank such as the Fidelity Flip Account, Fidelity Mobile banking and internet banking, the savings account, among others.
The Fidelity savings account interest rate, fixed deposit interest rate,  and the FLIP account interest rates are some of the most competitive interest rates in Ghana.
This simple and easy article Was Last Updated on by Nana Abrokwa
Please you wish to visit this post "https://thebusinessalert.com/fidelity-bank-ghana-guide/" ocassionally for changes and updates that we will make to this article.
Check this ultimate guide: https://thebusinessalert.com/sunlearn-student-portal-login/
In the year 2022, we bring you the best of banking and money transfer experience. Just stay tuned for more articles.
Check this ultimate guide: https://thebusinessalert.com/irs-code-290/
Here is the main list of our latest guides for May 2022, check them: