This is a comprehensive guide on how to use the Ghana Post GPS Address, where and how to download the App. Every detail is provided so take your time and read to the very last paragraph.
Much emphasis is made on the GhanaPostGPS App and the various ways to generate or create your GPS address.
Recommended Reading!

Everything You Need To Know About Ghana Zip Code
Latest Update: Visa Free Countries For Ghana – Just Passport Needed
Profitable Business Ideas In Ghana
Ecobank Ghana – The Ultimate Customer Support Guide
Current Treasury Bills In Ghana
You can use the table of contents below to jump to any section of this guide where you are most interested in reading:
What Is Ghana Post GPS App?
Ghana Post GPS is a state-funded satellite navigation and indexing service that can be downloaded by every resident in Ghana.
The system allows every citizen in Ghana to add his or her address to a network that covers the entire country.
The service also provides every address listed with a unique digital code that represents your property.
This keeps your personal data safe but still allows you to take advantage of the system and the benefits it brings.
The digital address is comprised of two letters, which represent the region, a numerical postcode, and an additional set of numbers that are unique to Ghana Post GPS.
The app is designed to allow every resident to register their property and to have this officially recognized as their own.
What You Need To Know About The GhanaPostGPS App
The app itself was launched by President Nana Addo Dankwa Akufo-Addo with help from its designers; the digital technology company Vokacom.
The initial idea was to make sure that every address in Ghana was accounted for and so every citizen had an official fixed residence.
As Ghana is building more new homes than ever before this was the best way to create a government census without much intrusion on citizens.
It also allowed the government to take advantage of new technology, which is cheaper to the taxpayer than doing a census manually.
Recommended reading: How To Register A Business In Ghana.
How Does The Ghana Post GPS Address Work?
In Summary, here is how Ghana Post GPS work:
You visit the GhanaPostGps website or download the app.
After that, you register on the digital address system.
Next, the system assigns a code to your address or location.
That code represents your Ghana Post GPS address.
That is basically how GhanaPostGPS work in Ghana.
READ ALSO: List Of Best Real Estate Companies In Ghana.
How Do I Download And Use The Ghana Post GPS App?
Obtaining and using the GhanaPostGPS app couldn't be simpler.
It can be downloaded from all major app stores, such as Apple and Google Play Store.
For iPhone and other Apple users, download the app here.
Android users can download from Play Store here.
Here Is How To Download The Ghana Post GPS Address:
1. On your Android phone, you can get the app on the Google play store.
2. After opening the Google Play Store app, you need to search for "Ghana Post".
Identifying the official app is not so difficult. Let me give you some tips.
The GhanaPostGPS app is about 54MB in size and has been downloaded over 500,000 times.
It is rated 3.7 on the Google Play Store with over 4,000 reviews.
It is, however, advisable to take a minute to scan through the screenshot and the app info to be double-sure you are downloading the right app.
Note: Under the App info, you should see "Offered by Ghana Post Co Ltd".
During the download, you should see "Verified by Play Protect," which is an indication that you are downloading the original GhanaPostGPS app.
3. As soon as you find the right app, download and install the GPS app.
4. You don't need to do anything while the app is being installed.
Just wait patiently for the process to complete.
Although having the app running in the background may be the safest thing to do, and luckily it doesn't use much battery life.
Remember to turn on location services on your phone to take advantage of the features of the GhanaPostGPS app.
The app's official website also has a helpful FAQ section, and further instructions should you get stuck or need more information.
Although once downloaded, the app is very easy to use, even for those who can be intimidated by new technology; there is nothing to fear.
How To Register For The Ghana Post GPS Address
Follow these steps to register your GPS address in Ghana:
Step 1: After installing, click open to lunch the app.
Step 2: You need to allow GhanaPostGPS to access your device's location.
Step 3: To do this, click "ALLOW".
Step 4: Enter your first and last names in the field provided.
Step 5: Next, enter your telephone number and click continue.
You can skip the registration process, but that will not allow you to generate your GPS Address.
Step 6: After you have entered your name, telephone number, and clicked continue, you will receive an SMS notification to verify your telephone number.
Step 7: Enter the 4-digit verification code.
Step 8: Click "Verify"
If the verification process is unsuccessful, tap the "Send code again" button again for another verification code to be sent to you.
That is how easy to register for the Ghana Post GPS address in any part of the country either Accra, Kumasi, Tema, Koforidua, Cape Coast, Takoradi, or Tamale.
Recommended article: Crate and Barrel Return Policy.
How To Do Business With The GhanaPostGPS App
Ghana Post GPS has also had a positive effect on businesses throughout the country.
Business owners can register their company's office or warehouse address and become easily discoverable to potential customers or business partners.
Like homes, new business ventures are springing up all the time in Ghana, and the app allows them to be seen and officially confirm their base of operations.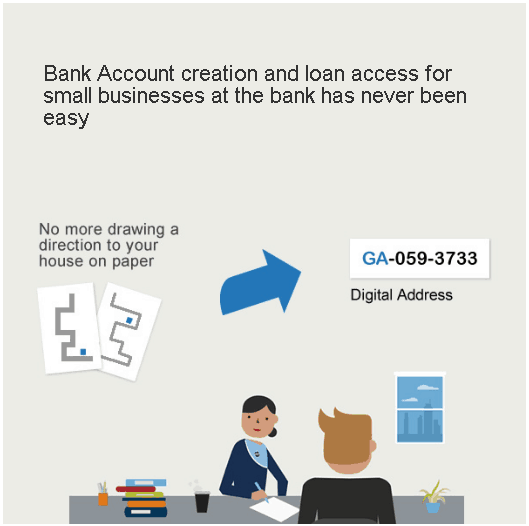 Gone are the days when the banks will ask you to draw the direction to your residence.
Those times are over.
The digital address replaces all those dawings. And in just about 9-digits.
Recommended for you: Ecobank Omni Internet Banking Guide.
Importance Of Digital Address System In Ghana
The service allows Ghanaians the ease of using their code instead of typing out (or indeed sharing) their personal address.
If you are on the Ghana Post GPS system and you order something while online shopping, you can use your GPS address to have it delivered to you.
The service can also be connected to your bank account, keeping your information secure and private but allowing you to pay using the service.
Your Ghana Post GPS unique code, along with a password, of course, can be used on a variety of apps or digital services.
The GPS address allows Ghanaians a one-stop method to pay for items or confirm their identity/location.
Sending For Help With The GhanaPostGPS App
That's not all, Ghana Post GPS can also be used to contact emergency services like the Fire Service, Ambulance, or the Police.
Using the GPS to telegraph your position to the service you need now comes in handy.
This doesn't need to be done in your house.
This particular feature is most useful in instances when you may be away from home but is in need of assistance.
The Ghana Post GPS app also comes with a secret panic button that can be used with minimal effort to call for help.
The idea is this can be done quickly before and secretly to alert the authorities without it being made obvious.
If a relative or friend is a victim of a crime, they may not have time to use their phone for help, although they may have the chance to get help with a couple of swipes of their finger.
For the elderly and vulnerable, this is a much safer way to live, and we would recommend installing it on the phones of your children.
This way, parents can always keep track of their children and make sure they are traceable should anything go wrong.
We also worry about elderly relatives as they get older, and the app can bring peace of mind if installed on phones.
It's always advisable to show an elderly relative or friend how to use the app, especially its features for calling emergency services.
READ ALSO: Everything You Need To Know About Mukesh Ambani.
Not From Ghana But You Need The GPS Address?
Visitors to Ghana can also use the Ghana Post GPS app.
Naturally, visitors are not going to have a fixed abode, but they can take advantage of the map system to find their way around Ghana's cities and towns to locate the places they are visiting.
If they have friends and family in Ghana who uses the Ghana Post GPS app, then this could be a particularly useful tool and save them much confusion.
It's daunting to know your way around a new city for the first time, and hopefully, this can fix that problem for a lot of visitors.
Read this: Africa World Airlines – Ultimate Guide For AWA Customers
What Next With The Digital Address System?
It's hoped that the app will be updated in the future to add even more features.
As technology changes and social media becomes more and more prevalent, this opens up lots of exciting possibilities.
But for now, it's enough to know that every resident of Ghana can use the GPS app and always be able to officially verify their own property, be it for business use or their home.
This simple and easy article Was Last Updated on by Nana Abrokwa
Please you wish to visit this post "https://thebusinessalert.com/ghana-post-gps/" ocassionally for changes and updates that we will make to this article.
Check this ultimate guide: https://thebusinessalert.com/sunlearn-student-portal-login/
In the year 2022, we bring you the best of banking and money transfer experience. Just stay tuned for more articles.
Check this ultimate guide: https://thebusinessalert.com/irs-code-290/
Here is the main list of our latest guides for May 2022, check them: