Do you want to venture into the world of entrepreneurship and try your luck being independent? We present you with some profitable business ideas in Ghana you can start today.
There are many reasons to start a business of your own, and people are motivated to do this because of the following:
Earn more money.
Have more free time to enjoy as a family.
Work from home.
Dedicated to doing something that you really like.
Be your own boss.
It shouldn't be a bother if you already have a job.
If you have a stable job and want to start another business in Ghana to supplement your current salary, then that is a good idea.
Some people also forget about their current job and start their own business.
As a beginner, I will urge you to consider the various alternatives available to you before making a determination.
For convenience, use the navigation links below to move to the section you are interested in reading:
List Of Profitable Business Ideas In Ghana For Entrepreneurs
Currently, there are many lucrative business ideas in Ghana.
In this article, I will show you some of the most profitable ones that you can do and make real money.
Let's look at some business opportunities available to Ghanaian entrepreneurs.
Some may be very lucrative businesses, but with a significant investment.
While others are profitable businesses with little capital or investment.
Related Article: Complete List Of Profitable Farming Opportunities In Africa.
1. Housekeeper Jobs In Ghana
We all want our homes and work environments to be clean, but not everyone will have time to do this the right way and even all the time.
Our busy schedules will not even permit us.
For those people who have cleanliness at heart, they will employ others to keep their homes tidy. This creates a business opportunity for those who are less busy to take up the job.
Yes, housekeeping is one of the most lucrative business ideas in Ghana.
As a housekeeper, your duties vary according to the nature of employment, but the requisite skills remain the same.
Depending on the scope and extent of your business, the core responsibility is to ensure a clean and tidy environment for both private houses and commercial institutions.
This kind of business is not that demanding, but attention to detail as well as integrity and high ethical standards is very necessary.
Now that you have seen that housekeeping is a lucrative business idea in Ghana, it is time to take the bold step and start it now.
READ ALSO: Snail Farming Business In Nigeria.
2. Start Washing Bay Enterprise
Starting a washing bay business in Ghana is a profitable venture every entrepreneur will make.
All that you need is an excellent location for your car wash business, the right equipment, and an excellent marketing strategy.
Another thing to consider is how you will finance the business.
Try to keep the operational cost to the minimum while maintaining high-quality service.
As a rule of thumb, treat every car as your own!
Recommended reading: Full List Of 23 Collapsed Savings And Loans Companies In Ghana.
3. Open Child Care Business
If you are passionate about taking care of children of all ages, then you are fortunate. You can turn this into a big-time business by establishing a childcare business in Ghana.
You may not know but childcare is a profitable business idea in Ghana that is fetching millions for some entrepreneurs in the enterprise.
For you to be a successful childcare giver, you need to develop some parenting qualities. And once again, care for the child as if it is your own baby.
Your goal should be to nurture creativity, encouraging positive behavior, as well as enhancing the optimum health of the child.
Parents want someone to trust, so you have to develop a healthy relationship with both the child as well as the family members.
You must, however, be certain about the scope of your childcare business. This business idea in Ghana is often run in two (2) ways.
First is contacting parents and caring for their children in their own homes while they are at work.
The second option, which is a little demanding, is establishing a childcare center where different children from different homes are cared for under a well-designed establishment.
The later can be chaotic initially, but when things are done properly, you will see real success.
4. Start A Graphic Design Business In Ghana
Graphic design is one of the profitable business ideas in Ghana that you can take advantage of as an entrepreneur.
Do you enjoy designing logos, infographics, posters, brochure, and the likes? Why not turn your passion into a real-time business?
In Ghana, graphic designers are among the highest-paying jobs. It would be wise in that regard to start your own graphic design business and make decent money, at least, for a living.
Even if you don't have the financial muscle to establish a physical business in your vicinity, there are many platforms available to you to make money with your talent.
According to the Ghana Investment Promotion Centre, the country is a better place to start an ICT-related business on the continent of Africa.
You can visit any of the freelance websites like Fiverr, Upwork, etc., and work on the thousands of design jobs posted by people who want your service.
5. Start Food Truck Business In Ghana
If you have noticed, in recent years, more and more food trucks are seen in different events, and places enabled for these to operate.
This is because it is one of the most powerful emerging businesses in Ghana in recent years.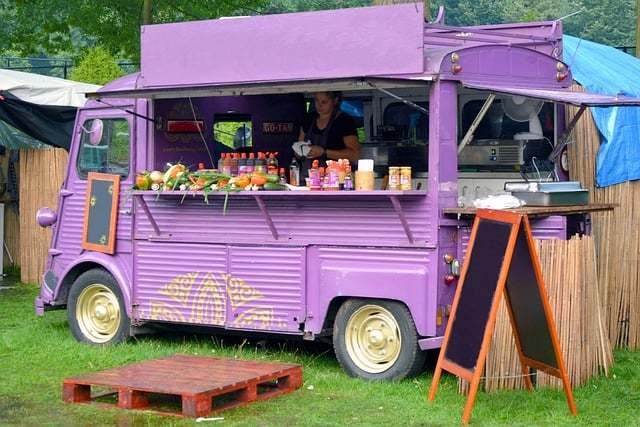 These are restaurants "on the wheels" that usually offer very specific types of food to the consumer.
Here is the key;
The operators of this kind of business care so much about the design, the attention, the speed, and the quality of their products.
There is a vast majority of entrepreneurs in Ghana who have dared to start with the food truck business but have failed woefully.
That doesn't mean you cannot succeed in the food truck business in Ghana.
The key to success in this type of business is to differentiate yourself from the rest by being specific with your offer.
Don't try to do everything at the same time. Just focus on one or a few things at a time and give it your very best.
Also, implement a sound marketing strategy like having an active presence on social networks such as Facebook, LinkedIn, Twitter, Pinterest, Youtube, and Instagram.
Related guide: Profitable Smoothie Business In Nigeria.
6. Restaurant Business Ideas In Ghana
In the early 90s and even the beginning of the year 2000, the idea of ​​starting a restaurant was perceived to be a very "risky" business. Success could happen, but failure was much more likely.
Today things have changed and, indeed, for the better.
Now,
We no longer spend much time in our kitchen, mainly due to the nature of the work we do these days.
This creates a business opportunity in Ghana for those of us who are interested in starting a restaurant business.
That notwithstanding, you need to study the market very well and also take into consideration where you will operate the business.
For businesses such as this, always determine who your consumers will be. Are you targeting a particular group of people or the whole population?
Once you are certain in this regard, the rate of failure reduces drastically.
7. Open A Gym
Another business opportunity in Ghana that has gained a lot of strength in recent years is that of gyms.
Many Ghanaians are concerned about their body image and the overall state of health.
Little by little, it has been possible to create an awareness of the serious problems that come with a sedentary lifestyle, and that is why more and more people join the gyms.
Some gym facilities in Ghana offer a subscription to customers, and it does not matter if the client makes use of the gym or not, he is obliged to pay.
That is one of the reasons why gyms are profitable business ideas in Ghana.
An innovative gym, well located, offering personalized attention, excellent facilities, and dedicated professional gym instructors has many chances to succeed.
8. Start A Personal Training Business In Ghana
A few years ago, having a personal trainer was a luxury that only a specific group of people could afford.
The narrative is totally different today.
Many people prefer to do their workouts in places or even in their own homes.
That's when many possibilities open up for personal trainers in Ghana.
If you specialize in fitness, you can organize a team of personal trainers who perform different types of training for different categories of people.
I bet you.
Personal training is a profitable business idea in Ghana.
For this type of business, it is a good idea to create a dedicated website where you can offer your services online.
Also, offer additional products such as sportswear, supplements, nutritional advice, among others.
9. Care For The Elderly
The life expectancy continues to grow, and that translates into a more significant number of older adults.
Older adults require a lot of care and companionship.
Over the years, they lose their physical capacity and independence, which is why many times their families choose to hire experts to help them with their self-care activities.
Entrepreneurship in this niche may be a good idea if it is done from a health and psychological perspective.
You have to have knowledge of medicines, therapies, nutrition, and personal treatment, to provide a truly excellent service and differentiate yourself from the rest.
10. Event Organising As A Profitable Business Idea In Ghana
Maybe you have been working in the events planning industry for some years now, and you have decided to capitalize on this business idea by establishing your company.
Or maybe you have helped organize some events in the past and wish that this could be part of your professional life.
There are many good reasons to continue with this lucrative business opportunity in Ghana.
Most people don't have the ability to plan and execute correctly all that an event requires. This is a business opportunity for you as an entrepreneur.
However, before you start such businesses in Ghana, you need to consider the following:
Gain skills and experience in event planning
Determine your event planning market
Prepare a business plan
Designate which business entity fits best for your company
Develop your network of providers and staff resources
Focus on business development and marketing for your events company
11. Small Pastry Business Opportunities In Ghana
This is a niche that has remained profitable over time, and that has even been increasing.
Starting a pastry business in Ghana is an excellent passion for chefs, lovers of desserts, and even housewives.
Remember that to start this type of business you must already have some experience and touch to prepare desserts that the people like.
This is a type of business where both quality and flavor must meet high expectations.
In addition, the chosen location, unless it is already established, will require some level of reform to adapt it to food safety and hygiene regulations
Recommended article: How To Download And Use The Ghana Post GPS App.
12. Beauty Salon As A Profitable Business Idea In Ghana
Did you study beauty or you have a passion for it, and you think that it is time to become independent? Are you struggling to start a beauty salon in Ghana? Don't worry.
Just start small and scale it up into the big business you have been dreaming of all this while.
Undoubtedly, the salon business is one of the most successful low-investment business ideas in Ghana currently.
The salon business in Ghana is now diverse, it can be done on the street, at home, and practically anywhere your target consumers reside.
As we said before, a beauty salon today is a very profitable business, of course, it all depends on your effort and dedication.
There are some steps to follow for the establishment of this business.
First, be clear about the services offered by your beauty salon, ranging from basic services to services that require more specialization.
Let us take a critical look at some of the common ones:
Haircut.
Hairstyles
Manicure and pedicure
Facial cleaning
Artistic makeup
Conventional makeup
Application of dyes
13. Electrical And Plumbing Services
It is very difficult to stop this type of service. This is mainly because specialists will always be required to attend to this type of emergency, both in homes and companies.
The factors to consider in establishing your electrical shop in Ghana are location, competitive pricing, the type of electrical gadget to deal with.
But how much money do I need to start an electrical shop in Ghana?
The answer cannot be that straightforward.
There are a plethora of factors that come to play in any establishment. So the price varies, especially according to the scale of the business.
14. Start Sachet Or Pure Water Production
With the high demand for sachet water in Ghana, it is imperative for any serious entrepreneur to invest in the water production business.
Pure water, as is popularly called, is a very lucrative business in Ghana. The sachet water business is not as demanding as other businesses in Ghana, and that is why many people are investing in that enterprise.
All that you need to do is get your location, register your pure water business, and install the distillation system.
Start the sachet water business in Ghana and enjoy a sturdy stream of income.
READ ALSO: Ecobank Omni Internet Banking Guide.
15. Selling Toiletries As A Business Opportunity In Ghana
Selling toiletries in Ghana is another lucrative business opportunity for most young entrepreneurs. Since they are needed in our daily lives, toiletries are in high demand not only in Ghana but everywhere in the world.
As an entrepreneur with profit in mind, you need to plan and market your products very wisely.
The choice of your products may range from toilet rolls, wipers, toothpaste, shampoo, diapers, shaving sticks, deodorant, sanitary towels, among others.
These are some of the products in high demand in Ghana, and as a startup, I will urge you to study the market before you jump into starting any of the toiletry businesses in Ghana.
16. Start A Barbershop Business In Ghana
If you work as a barber and your dream is to start your own business in Ghana, then you can open your own barbershop.
This is one of the most profitable business opportunities in Ghana.
But what if you are not a barber but still want to open a barbershop?
That is a great idea.
You can get professional barbers to do the work any day anytime!
However, filling your barbershop with high-quality barbers can be a challenge. Having a pleasant environment for your customers and staff can make or break your business.
This requires you to monitor the barbers carefully. Decide if you want to have barbers as employees or to work as external contractors.
It is quite simple to manage a barbershop as it does not involve significant expenses. In addition, people need haircuts all the time; therefore, this business will always be profitable in Ghana.
Here are some of the things you will need for your barber business:
Electric Clippers
Sterilizer
Shaving and beard care products
Mirror
The Right Furniture
Combs and Hair Dryers
After Shave Lotion And Styling Gel
SCISSOR
Mirror
Cape
READ ALSO: Top 5-Star Hotels In Kenya To Book Now!
Conclusion
And that's it.
You have seen some of the most profitable business ideas in Ghana that almost every entrepreneur can venture into.
These are largely part-time or full-time business that is lucrative in every aspect.
Share your opinion on the business idea that is working for you in Ghana.
Maybe you are making more money with another business opportunity that is not covered here.
Let us hear from you in the comments.
This simple and easy article Was Last Updated on by Nana Abrokwa
Please you wish to visit this post "https://thebusinessalert.com/business-ideas-ghana/" ocassionally for changes and updates that we will make to this article.
Check this ultimate guide: https://thebusinessalert.com/sunlearn-student-portal-login/
In the year 2022, we bring you the best of banking and money transfer experience. Just stay tuned for more articles.
Check this ultimate guide: https://thebusinessalert.com/irs-code-290/
Here is the main list of our latest guides for May 2022, check them: