Kempinski Hotel Gold Coast City Accra is one of the best hotels in Ghana. It is equipped with state-of-the-art facilities. The menu at the hotel is super, and the location is not difficult to spot.
To get there from the airport, you will drive straight to Independence Avenue towards Ridge Circle. When you get to the circle, take the third exit to castle Road from where you will connect Gamel Abdul Nasser Avenue on the right, where the Kempinski hotel is located.
This 5-star hotel is one of the playgrounds for the rich and the destination for the many visitors in the West African sub-region.
On the other hand, you can include airport pick-up and drop-off in your reservation. A car pick-up will cost $80, $100, 0r $200 depending on the type of car.
The Kempinski Hotel in Accra has partnered with trusted and more reliable transport services such as Volkswagen, Touareg, and Jaguar.
If you choose to use the pick-up service, then you are required to provide your flight details.
In case you no longer need this service, and you want to cancel, you can do so by giving a minimum of 3 hours advance notice.
The hotel also offers free airport shuttle service. However, you will need to include your flight details in your reservation.
Find out the Richest Man In Africa According To Forbes.
Popular Places Near Kempinski Hotel In Accra
For people who are coming to Ghana for pleasure, it is necessary to know the most interesting places very close to Kempinski Hotel.
First off, the hotel is opposite the Efua Sutherland Park. The hotel is just about 9km to Labadi Beach, 4km to Flag Staff House, almost 2km to Kwame Nkrumah Mausoleum, and 1.5km to the Independence Square.
Also, the hotel is also 1.4km to Accra Stadium, 1.1km to the State House, and almost 1km to both the National Theater and Accra International Conference Centre.
The Structure Of The Accra Kempinski Hotel
Kempinski Hotel stands as twin buildings walled with a mixture of shinning ceramic tiles and transparent glass. This gives an elegant surrounding that befits the upper class where it belongs.
It offers a highly inviting ambiance especially in the night when all the surrounding lighting is on.
Read also: How To Buy Internet Data Bundle On MTN Ghana.
Facilities Available At Kempinski Hotel In Accra
There is a 25-meter outdoor swimming pool where guests can cool off after a hectic day soaking up the African sun to restore body and soul.
There are many facilities at the hotel that will make your stay very enjoyable.
In addition, fitness sticklers can enjoy their game in a well-equipped gymnasium and yoga studio available in the hotel. If you are preparing for Christmas at the end of the year, then I recommend this hotel for your outings.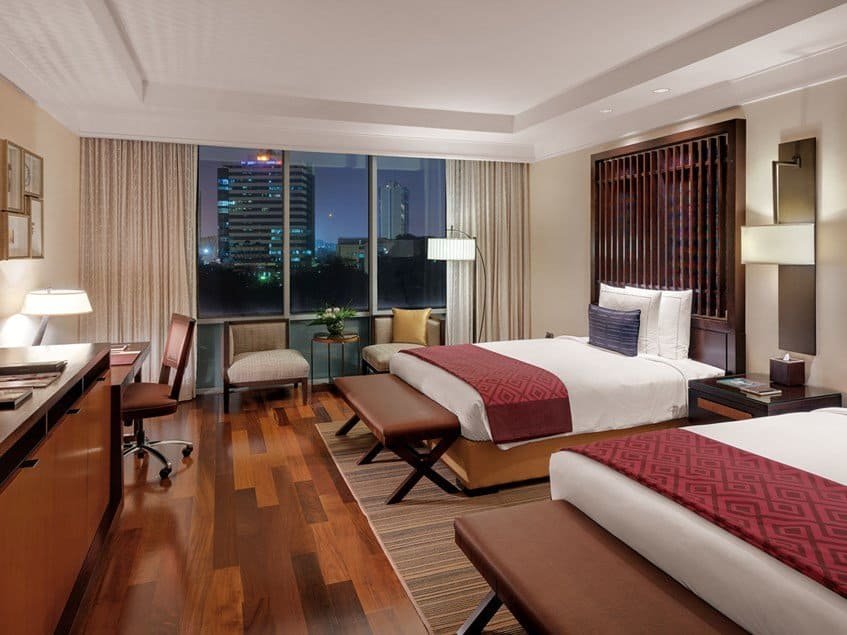 Gym Facility At Kempinski Hotel
The gym is open from 6am to 11pm. There is also a tennis court for you to unleash the Serena Williams in you. A well-stocked organic bar definitely completes the package.
Health And Beauty Salon
For women who love to look gorgeous anywhere anytime, the hotel has provided a health and beauty salon.
There is an executive lounge stocked with exotic drinks, current newspapers, and magazines canapés. As an added benefit, you enjoy two exclusive boardrooms furnished with state-of-the-art technology during the daytime.
You will also relax and enjoy your drinks at night. And with the executive lounge at the Kempinski hotel, you will have an exclusive and professional team to assist you.
Concierge Service
In addition, you can also get a dedicated concierge service to help with your busy schedules. The hotel provides assistance for your travel, business, or entertainment needs around the clock.
Recommended reading: Small Business Ideas In Zimbabwe.
Kempinski Laundry And Cleaning Services
You don't have to come over with a lot of clothes or be bothered about how to keep them neat since you can enjoy their professional laundry and dry cleaning services.
Car And Limousine Rentals
For ease of mobility around Ghana, the Kempinski Hotel in Accra offers both transport booking, and a car and limousine rental services.
Free WiFi Internet Access
Being on vacation should not cut you off from your social media peeps because every room in the hotel has wireless internet connections. So, you can update your status with your crazy selfies in real-time.
And you can also carry out business transactions. In fact, there is a business center and meeting room for guests that may be coming over for business.
Check out the Visa Free Countries For Ghana Passport Holders.
Restaurants And Bars At the Kempinski Hotel Accra
The variety of restaurants and bars available in the hotel gives guests more options. You can enjoy a wide range of meals in either the Cedar Garden or Papillon Restaurant at the Kempinski Hotel.
And if you want to have a taste of the Ghanaian meal like Fufu, Waakye, Banku with Okro stew, or Jollof, then you are at the right place. I have seen people who have confessed that the Kempinski gari is the best.
You can enjoy it morning, afternoon, or evening, I mean 24/7.  From their Mediterranean buffet to Arabian dishes or some Levantine Flavors. They are all available at the restaurants.
And if you are a fan of wines, you will get rare blends of drinks mixed by highly experienced mixologists in any of Lobby Lounge, The Gallery Bar, and Papillon Pool Lounge, all in Kempinski Hotel Gold Coast City Accra.
Papillon Restaurant
Located on the third floor and adjacent the Pool and Cedar terrace, the Papillon restaurant is a truly outstanding restaurant. The restaurant got its name from its butterfly-shaped architectural design.
Its rich flavors transcend the Mediterranean region from the heart of Spain through to the Coast of Southern Italy in a casual and contemporary world-class atmosphere.
With its interactive open kitchen, the Papillon restaurant is a dream come true and the ideal place for a quick business lunch, a casual dinner, or romantic get together.
Papillon Pool Lounge
This pool lounge by Kempinski is the perfect place to chill and relax while enjoying the cascade echo. The Papillon pool lounge offers wonderful views over the greens of the Cedar Terrace.
It also features a stunning waterfall which runs all the way down to the Cedar Garden.
The lounge is the perfect place to meet and assemble for younger crowds as it offers pool pampering services throughout the day.
The Gallery Bar
Do you want to have a taste of the trendiest drinks, entertain yourself, or just have an informal chat with friends?
Then the ultramodern Gallery bar by Kempinski hotel is the right place to be.
The bar is the ideal place for national and international guests to enjoy the comfort they can ever imagine under the sun.
Their premium ultra-definition TVs, Live music performances, live jazz, and piano performances among others makes the hotel more entertaining.
The Gallery Lounge
This section of the Kempinski hotel Accra is one of the most comfortable places where guests come to relax or have a short meeting.
The lounge has a cozy, casual, and serene environment coupled with its informal and friendly service allows both in-house guests and visitors to have a relaxed and refreshing stay.
The Cedar Garden
I cannot figure out how it got its name, but I can confirm to you that the Cedar Garden is one of the most popular spots in Accra. This is the place to see and be seen especially in the evening.
Private Dining
You might choose to have a special occasion or a late night out, and perhaps even a business meeting. Irrespective of what schedule maybe, private dining will cater for it and will offer you with a variety of dishes.
The in-room dining offers a complete menu for breakfast, lunch, and super.
Wine and beverages are not left out in the private dining mantra. This means you can enjoy whatever you want 24/7/365 all in the comfort of your room.
Read also: The Ultimate Guide To Your GoGPayslip E-Payslip.
Other Facilities At The Kempinski Hotel In Accra
Apart from using their surroundings, they have a well-equipped meeting, conference and events halls. Their meeting and events team can also help you plan your meeting or event so you can request their service if the cost is not a constraint.
The hotel has its car park, so it offers a free car park. The hotel and its amenities are wheelchair-accessible. In addition, all the 269 rooms have both iron and ironing boards.
For security reasons, there are surveillance cameras installed in the car park and other areas within the hotel. The location of the hotel itself provides added security.
All hotel staffs are trained in first aid, cardiopulmonary resuscitation (CPR) and the usage of external defibrillator usage (AED). So, guests are always in safe hands in the Kempinski Hotel.
What Are The Check-In And Check-Out Times At Kempinski Hotel
The check-in time in the hotel is 15:00 and the check-out time is 12:00. For accurate timing, it is important to bear in mind that Ghana's time zone is GMT +0.
Find out the Top Insurance Companies In Ghana.
Rooms At The Kempinski Hotel Accra
The hotel rooms are actually the most important part of any hotel. Kempinski Hotel scores high in that area too. In all, there are 269 luxury rooms and 24 suites. In fact, their luxury rooms are said to be the largest in Accra (Capital of Ghana).
The rooms are divided into the following categories.
Superior Room
This room costs $350 per night. The room is about 50 meters square in size. The Superior room has a laptop-size safe, flat-screen TV, working desk, bathroom with both bathtub and shower, and king size bed with an extra bed.
The hotel is generally kid-friendly, so a baby-cot is allowed in the room. Most importantly, it has a large window that gives you a wonderful city view.
Deluxe Room
This room costs $375 per night, and it shares the same features with the Superior Room.
Why this room costs $25 more than Superior Room is not really clear but it has a longer sofa, wider bed and its large window gives the guest a good view of the outdoor swimming pool.
Executive Room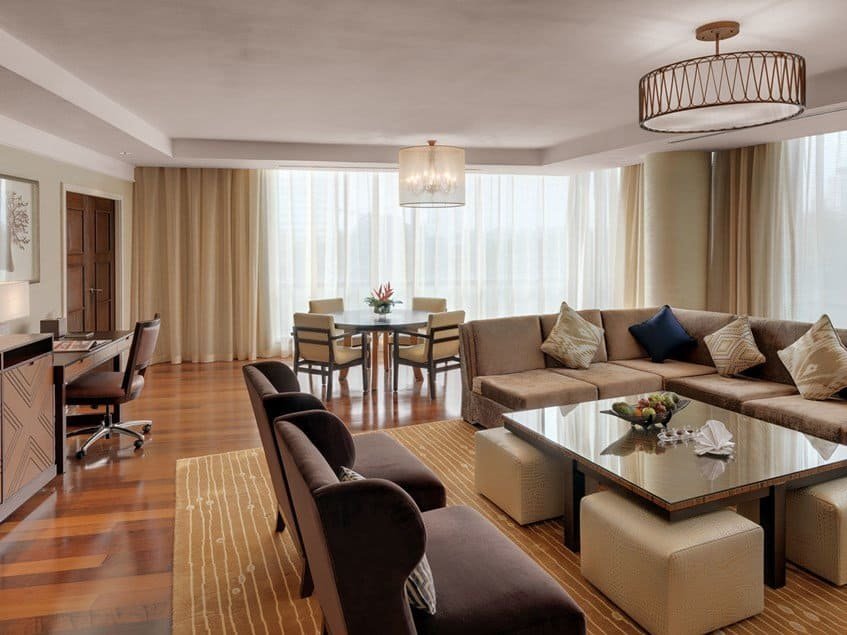 This room costs $525 per night, and it has the same features with Deluxe Room. However, it also has a lounge area, and this explains why the Executive room is more expensive than both Deluxe and Superior Rooms.
Junior Suite
You will pay $625 per night for this accommodation facility. It is bigger than the three types of rooms above. It is 75 meters square in size. This is one of the reasons the Junior suite costs more.
Its large window gives a good view of the beautiful inner courtyard. In addition, it has a Nespresso machine. Guests who love coffee will appreciate this.
Executive Suite
This suite costs $775 per night. It also has a Nespresso machine, but it has a size of 94 meters square which makes it bigger than the others above.
It gives a view to the pool. Apart from its size, another feature that makes the Executive suite more expensive than others is that its living room is separated from the bedroom.
If you lodge here with your spouse, one of you may be in bed while the other may still be watching the TV. None of you will disturb the other.
Executive Corner Suite
You will pay $850 per night for this. Its window gives a beautiful city view. It offers the same facilities as the Executive Suite but surpasses it with the addition of a separate dining room and a bigger size. Its size is 122 meters square.
Presidential Suite
This is the biggest, best, and most expensive of them all. It costs $9,800 per night. It is probably meant for celebrities and business moguls.
Its bathroom is bigger than the other bathrooms, and the bathroom has a bidet in addition to a shower and a bathtub.
The Presidential suite is 275 meters square, making it the biggest of them all. It has an iPod dock station. The privilege of 24-hour butler service is also attached to this suite. Indeed, it is presidential.
Related article: List Of Best Real Estate Companies In Ghana.
Special Offers By Kempinski Hotel Accra
With the exception of the Presidential Suite, the early booking will earn you a discount on any of the rooms and suites. If you book for 7 to 14 days in advance, you will earn a 10% discount.
For 5 to 29 days prior booking, you will earn a 15% discount and 30 days or more prior early reservation will earn you 20% discount.
When you book for 3 to 5 nights, you will enjoy a 20% discount. Also, six nights or above will earn you 25% discount.
Contact Address For Kempinski Hotel Accra
Kempinski Hotel Gold Coast City Accra

Ministries, Gamel Abdu Nasser Avenue

PMB 66, Ghana.
You can contact them through +233 242 436000, and you can send an email to reservations.accra@kempinski.com.
For more information, you can visit https://www.kempinski.com/en/hotels/about-us/
Conclusively, your stay at the hotel will definitely boost your experience in Ghana. It is important you bear in mind that even though the lingua franca in Ghana is English, their native language is Akan.
When you arrive in Ghana, and you hear the word "Akwaaba", it is not an insult, it means "welcome".
You can either respond with a simple "Thank You" or impress them with your little Akan vocabulary by saying "Medaase" which means thank you.
Have you already been to the Kempinski hotel in Accra Ghana, have you now heard about the facility and is yearning to have a stay to quench your boredom?
Have you enjoyed the facilities mentioned above at the hotel and would want to share your experience? Your comments and opinions are highly welcome.
This simple and easy article Was Last Updated on by Nana Abrokwa
Please you wish to visit this post "https://thebusinessalert.com/kempinski-hotel-accra-location-menu-booking/" ocassionally for changes and updates that we will make to this article.
Check this ultimate guide: https://thebusinessalert.com/sunlearn-student-portal-login/
In the year 2022, we bring you the best of banking and money transfer experience. Just stay tuned for more articles.
Check this ultimate guide: https://thebusinessalert.com/irs-code-290/
Here is the main list of our latest guides for May 2022, check them: