Are you really interested in starting a palm oil business in Nigeria and need advice on how to do it in 2021?
If that is why you came to this website, then continue reading.
Listen to me!
There is currently a revolution underway in the agricultural industry around the world and Africa in particular.
To begin with, I suggest you have a business plan or feasibility study sample for the start-up.
As of 2011, Nigeria was the third-largest producer of palm oil, with over 2.3 million hectares (5.7×106 acres) under cultivation.
As the market price for palm oil increases in Nigeria, it creates lots of business opportunities for entrepreneurs.
The Palm Oil Business In The World
The oil palm is an oil crop that has spread throughout the world thanks to its high production potential.
Compared with other oil crops, their yield in terms of oil per hectare, which averages around 3.7 tons, exceeds traditional oilseeds such as soybean, rapeseed, sunflower, and olive.
Seeds that currently seek to increase this yield of oil per hectare are cultivated by the application of biotechnology.
However, given its importance in terms of oil yield and area planted especially in countries like Malaysia, Indonesia, Nigeria, Thailand, Colombia, New Guinea, Cote d'Ivoire, Costa Rica, Honduras, Brazil, Ghana, Guatemala, and Nicaragua.
Consequently, the high production of palm oil in the world highlights the upward trend that has maintained the production of palm oil plants.
Despite occupying second place in the world production of oils and fats, after soybean oil, palm oil is the oil that is sold the most in the world, far surpassing the exports of its closest competitor.
Exports of palm and soybean oil represent just over 70% of the world's total.
Malaysia and Indonesia, the leading producers of palm oil, are also the most important countries exporting oils and fats.
Together, both nations represent almost 50% of the total exported volume of oils and fats in the world.
It is followed by Argentina, the United States, Brazil, and the European Union.
What Is Palm Oil Profit Per Hectare In Nigeria?
The palm oil yield per hectare is estimated at 8 tons per year at most. On average, most farmers record a profit per hectare of around 3.4 tons per year.
The profit you get from your oil palm plantation per hectare depends on several factors.
The effects of pests, as well as other diseases, should be taken into consideration as this can hugely affect the overall yield.
Moreover, the age of the palm tree has an effect on the yield or output. The peak production of oil palm plantations is between seven (7) and eighteen (18) years after which it declines.
As a farmer, you will experience the lowest and peak palm oil yields per hectare as you journey through the business.
When you hit the sweet spot and start making an unprecedented profit along the line, you need to know that it will not always be the same.
It is, however, prudent to keep the yield per hectare above average.
Recommended reading: Profitable Business Ideas in South Africa.
The Palm Oil Business In Nigeria In 2021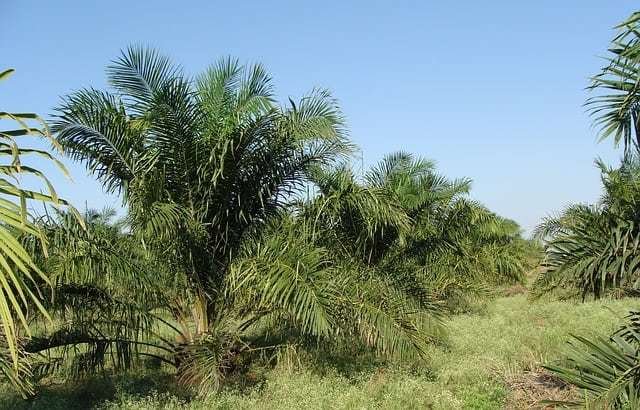 Food is an essential need in life and governments in the world can not afford food shortages, as it could lead to crisis.
If you wish to start a profitable business in the agriculture sector in Nigeria, that moment is now, and oil palm plantation is the way to go.
Do you have undeveloped land in any part of Nigeria, or have you inherited a piece of land that you know you will not develop in the next ten years?
This is the best time to turn the land into an income by venturing into the palm oil business.
List Of The Top States In Nigeria That Produce Palm Oil
Are you wondering which state is the highest producer of palm oil in Nigeria? Many states produce palm oil the country but some are considered the largest producers of palm oil.
As a buyer, this will guide you to know the best palm oil-producing companies in Nigeria.
Here are the states in Nigeria with the best palm oil:
Cross River State
Akwa-Ibom State
Delta State
Bayelsa State
Edo State
Abia State
As you can see above, those are the states in Nigeria where you can cultivate palm oil trees and make a huge profit.
Recommended guide: Kariba Dam Water Level.
Why should an oil palm plantation business be opened or set up especially in Nigeria?
The oil palm is one of the most useful trees that has been known.
Every part of the tree – of its fruit, its leaves, trunk, and its sap – is used for one thing or another.
While the palm fruits are processed into palm oil and palm kernel oil, palm fronds (leaves) are used for roofing homes in rural areas and in fields in most parts of Nigeria.
The sap (palm wine) is a beverage refreshing taken in many parts of the world, and it is widely consumed in Nigeria.
Most of these activities are done using the right palm oil processing machine.
Palm oil is red and is used for cooking in many countries.
Moreso, it is also used in the production of soaps and cosmetics, as well as palm kernel oil, which is made from the same fruit.
Check out the Best Places To Visit In Africa.
What You Need To Know About The Oil Palm Plantation
Oil palm plantations involve merely the cultivation of palm oil. When it is time for the harvest, you can process the fruits to produce red palm oil.
After the harvest and sale, you must wait until the next harvest season to sell again. This can continue for decades.
This means an oil palm plantation can continue and earn significant revenues for several years.
What are the requirements to start a palm oil business in Nigeria?
The main things you will need for your palm oil business in Nigeria are capital, land, and labor. Moreover, you need the right processing technique if you really want to stand out in the palm oil industry.
Now we are going to discuss each of these factors.
See also: Profitable Smoothie Business In Nigeria.
1. Land Acquisition And Nature Of Land For Oil Palm Business In Nigeria
Because you are starting an oil palm plantation business, you definitely need a large area of land.
This can vary from a few acres of land to many hectares of land, depending on the scope of your business.
The first most important factor to consider when acquiring the land in Nigeria for your oil palm plantation is the nature of the soil.
The soil should be fertile.
You must ensure that it is suitable for growing oil palm trees.
If you have doubts about soil quality, it is extremely advisable to have it examined by experts.
This is very important, for obvious reasons.
Also, your land will be your production factory so it should be located where buyers can easily assess.
Although you can easily find lands with fertile soil for your palm oil business in Nigeria, you must choose an easily accessible one.
This is because most of its buyers will use large vehicles to transport oil palm fruits from your farm to the processing sites.
After acquiring a piece of land, you need to prepare it well for planting.
It is highly recommended that you use proper farm implements to plow and loosen the soil and remove the hard roots in preparation for palm planting.
2. Consider Your Source Of Labor For Pal Oil Business In Nigeria
To establish a palm oil business in Nigeria, you may need extra hands to assist you in doing the job.
Although you may not have to hire permanent staff, you will have to hire people to help you with each stage of your business.
For example, you will have to hire workers to a tractor operator for the land clearing process.
You will also have to hire workers for the planting process.
And every time it is needed for the harvest, you will have to hire workers.
Recommended reading: Business Ideas In Kenya For Successful Entrepreneurs.
3. The Capital Requirement To Start Your Business In 2021
This refers to the money that is required to start your palm oil business.
This includes the following:
The cost of acquiring land – either you purchase or rent it.
Cost of hiring workers
The cost of maintaining the farm
An estimated cost of purchasing the seedlings you will need to start.
Sometimes you need to have a palm oil processing machine to ease the workload.
As you can see, those are some of the initial capital to start your palm oil business in Nigeria.
The Steps To Follow To Make Your Palm Oil Business A Success
After having discussed the requirements for the start of an oil palm plantation, we will now look at the steps involved in starting an oil palm plantation.
Acquisition of land and prepare it for planting Palm Fruit.
Buy the seedlings you are going to plant. Even though you have the option to grow the seeds yourself, this takes time, and you may end up with low-yielding seedlings.
A seedling costs between N250 and N300.  You will need at least 1,000 seedlings for a moderate-sized plantation.
Plant the seedling in the prepared soil.
Allowing adequate space between the plants is essential.
Without proper spacing, the roots interfere with each other, resulting in limited growth and poor performance.
The best separation is 8-9 meters between two floors.
Eliminate the weeds and apply fertilizers to the plants at intervals. This interval varies with the quality of the soil and the speed at which weeds grow around the plants.
You will have to obtain the recommendation of an expert for this.
How long does it take to start the harvest of palm fruit?
Your first harvest will be about two years after the planting of seedlings.
Therefore, if you have the capital and other needs, now is the best time to invest in your future by starting your palm oil business.
Read also: How To Track Your Shipment And Packages With FedEx.
Selecting Your Palm Oil Business Model
It is imperative to choose the right business model especially if you are a starter.
In Nigeria, the palm oil business is very lucrative, however, if you don't study the market well, you will end up wasting money.
Some people don't have oil palm plantations, so they buy palm oil or palm fruits from other producers and sell it to different buyers or directly to consumers.
You may not get huge profits using this business model, but I can assure you that you will be guaranteed substantial gains.
Another guide: How To Contact Absa Customer Care.
List Of Best Palm Oil Companies In Nigeria
Are you wondering where to sell your palm oil in Nigeria, here is the list of the trusted companies that will buy your oil palm products:
Sunny Oil Nigeria Ltd: This company is located in Lagos at Mushin. They purchase palm oil products including palm kernel oil,
OM Oil Industries Ltd: You can find this company in Ikeja. It buys most palm oil products.
Planet Oil and Chemical Industries Ltd. If you produce palm oil or palm kernel oil then this company is your destination. It is located in Abia State.
Phemson Nigeria Limited: This is a Lagos company and its main purpose is to purchase oil palm products as well as palm oil processing equipment.
Now that you know the companies that buy palm oil in Nigeria the tip is to study the market trend and buy when palm oil is abundant and sell them when it is scarce.
See also: Access bank Nigeria Internet banking Guide.
What Is The Current Price Of Palm Oil In Nigeria Today?
Here are the current prices of 25 liters of palm oil in the Nigerian market in some states:
Umuahia main market in Abia State – 6,000 naira
Igbudu market in Delta State – 7,000 naira
Nkwo Nnewi market in Anambra State – 9,000 naira
Gombe main market in Gombe State – 10,400 naira
Dawanau market in Kano State – 10,500 naira
Bodija market in Ibadan State – 11,000 naira
Mile 50 market in Lagos – 11,850 naira
Read this also: How To Register A Business In Ghana.
What Do You Need To Consider When Preparing For Oil Palm Enterprise As A Nigerian?
The following are some of the things to consider when starting an oil palm business in Nigeria:
1. Make Provision For Storage Facilities
Once you start producing palm oil in large quantities, you need to get a place to store them irrespective of the scope of your business.
This is one of the significant problems facing palm oil producers in Nigeria and many other African countries.
Securing a storage facility close to your customers is always a good idea.
Recommended reading: Ultimate guide to WhatsApp Business for iPhone and Android.
2. Arrange With Palm Oil Suppliers In Nigeria
If you are not the one producing the palm oil, it is always a good idea to establish rapport with your suppliers.
As a rule of thumb, always look out for suppliers who produce high-quality palm oil.
Don't just sit in your comfort zone.
Enter the various states in Nigeria and connect with good suppliers. But before then do your research well.
3. A good marketing strategy is key
For you to have a successful palm oil business in Nigeria, you need to have a proper marketing strategy.
A business plan is very instrumental at this moment.
This simple and easy article Was Last Updated on by Nana Abrokwa
Please you wish to visit this post "https://thebusinessalert.com/palm-oil-business-nigeria/" ocassionally for changes and updates that we will make to this article.
Check this ultimate guide: https://thebusinessalert.com/sunlearn-student-portal-login/
In the year 2022, we bring you the best of banking and money transfer experience. Just stay tuned for more articles.
Check this ultimate guide: https://thebusinessalert.com/irs-code-290/
Here is the main list of our latest guides for May 2022, check them: