This post explains how to use the Ecobank transfer code to send money from your Ecobank account to other Ecobank accounts.
Moreover, you can use the same bank transfer code for Ecobank to send money to another bank like GT Bank.
In Nigeria, you can use the code for Ecobank transfer on any network like MTN, Glo, Airtel, 9mobile.
I mean any mobile network.
The beauty of the mobile banking system is the fact that you don't need the latest phone like the iPhone or the high-end Android device to use the USSD code.
Every phone is supported.
This makes it useful for those in rural Nigeria who are always disadvantaged when it comes to internet banking.
The Ecobank shortcode does not need the internet to work.
The registration or activation of the Ecobank mobile banking is very simple. Just dial the transfer code and follow the prompt.
In Nigeria, Ecobank users now have a flexible way of transferring money using the Ecobank money transfer code *326#.
Through your mobile phone, you can check your account balance as well as recharge airtime.
Note: If you don't want to read all the post, you can use the table of contents below to get the information you want:
Check out: Ecobank Ghana – The Ultimate Customer Support Guide.
What Can You Do With The Ecobank USSD Code?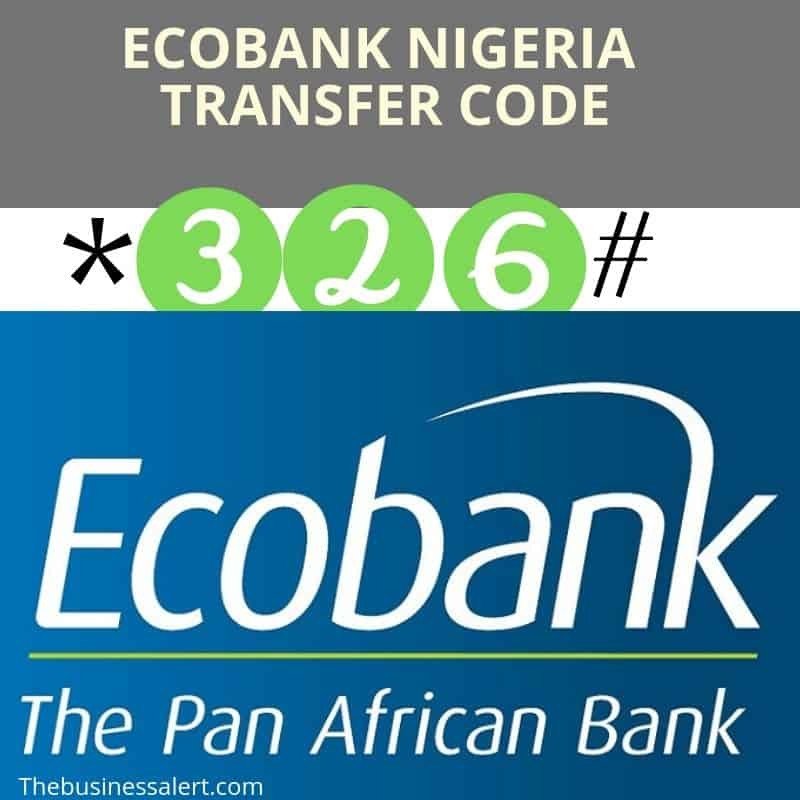 Here are some of the interesting things you can do when you dial the Ecobank transfer code *326#:
Send money to others
Receive cash from families and friends
Deposit money into your Ecobank account
Withdraw cash from your account
Buy airtime
Keep track of your account balance
Pay for your utility bills.
How To Register For The Ecobank Mobile Money USSD Transfer Code In Nigeria
Before you can use the Ecobank money transfer code, you need to register your phone number.
To give you a hassle-free experience, Ecobank automatically associates the phone number you used for creating the bank account with the USSD money transfer platform.
Because of that, there is no need to register again.
All you have to do is to activate the money transfer code by dialing *326# then continue to use it.
Recommended reading: Palm Oil Business Ideas In Nigeria.
How To Check Your Ecoobank Account Balance With The USSD Transfer Code
It is obvious how easy the Ecobank mobile transfer system works.
Now, if you want to check your Ecobank account balance, you need to dial *326*0# and press send. The command prompt will be displayed on the screen.
Select the option to check the account balance and press send.
It is necessary to note that you must use the same phone number you used when creating the bacn account with Ecobank.
If you dial the transfer code with other numbers that are not associated with the Ecobank account, it will throw an error message at you.
Find out the List Of Visa Free Countries For UAE Passport Holders.
Steps To Send Money With The Ecobank Transfer Code *326#
Follow these steps to transfer money from your Ecobank account to another bank using the USSD money transfer code:
Dial the code for Ecobank transfer *326#
Select the option "transfer funds."
Enter the account number of the one you are sending the money.
Choose the recipient bank
Enter the full name of the receiver and press next
Enter your transfer PIN or secret number.
Confirm the transaction and press send.
That is all.
You have successfully transferred money from your Ecobank account to another bank account on your phone with just the transfer code for Ecobank (*326#).
You don't even need to travel very long distances to access your bank account or to make any transaction.
Everything you wish to do can now be done on your phone and at your own convenient time.
Ecobank has introduced its mobile banking system to allow its customers to transact businesses on their mobile phones.
Currently, banks offer various technological mediums through which you can make financial transactions and, at the same time, save time and money.
One of them is Mobile Banking.
By using Ecobank mobile banking, you can receive information from your bank, make transactions, payments, top-ups, easily and securely, 24 hours a day.
With the Ecobank mobile transfer, you just need to dial the shortcode and access your bank information.
This is different from internet banking.
Thus, using the Eco Bank transfer code on any mobile operator doesn't neet internet data.
Read also: Snail Farming In Nigeria – A new Business Opportunities For Entrepreneurs.
Ecobank Transfer Code For Other Countries
Since Ecobank is a Pan African Bank, one can use this service not only in Nigeria but also in other African countries.
If you are in Uganda, Kenya, or Tanzania, then you can use the Ecobank transfer code corresponding to your country.
For those in Uganda, dial *235# and follow the prompt to use the Ecobank mobile money transfer.
If you are in Kenya, register by dialing *335#.
In Tanzania, the Ecobank code is *150*18#.
Recommended article: What You Need To Know About Africa World Airlines.
Benefits Of The Ecobank Mobile Banking
These are the benefits you will enjoy when you subscribe to the mobile banking service.
The mobile banking service does not incur much cost.
It does not require an Internet connection; therefore, there is no cost for data transfer.
It is available 24 hours a day, seven days a week.
Mobile banking operations are carried out with the highest levels of security.
It has international coverage through roaming.
You can check balances, cell phone bills, utilities, and third parties.
You can buy airtime using the recharge code *326#.
It offers greater flexibility and does not require access to a computer or the internet to perform transactions.
It facilitates the banking process, as it allows low-income populations and or rural areas to access comfortable and easy-to-use transactional services.
Mobile phones or telephones have gone from being just communication accessories to become a complement to the daily lives of people.
It now serves multiple tasks, including the management of financial operations.
Most banks have mobile banking applications that allow you to manage accounts, but is it safe to use mobile banking on your cell phone?
Making transactions with Ecobank mobile banking is very safe and secure.
Nobody can tap into your personal information or intercept your bank details.
All transactions are encrypted to give you the peace of mind that you deserve.
Another good news is that you are allowed to transfer money using the Ecobank transfer code to other banks like GT Bank on your mobile device.
This transfer can be done at any place and at your own convenience.
The Ecobank transfer code in Nigeria is *326#.
Recommended reading: Beginners Guide To Poultry Farming In Kenya.
How To Use The Ecobank Recharge USSD Code To Buy Airtime
With Ecobank mobile banking, you can buy airtime on your phone or recharge for other family and friends.
It is the same transfer code (*326#) that is used to buy the airtime.
All that you need to do is dial *326*1*amount# and press send to purchase the airtime from your Ecobank account.
To recharge airtime for yourself, you need to dial the recharge code *326*1*amount# and press send.
That is just simple.
For example, dialing *326*1*300# means you are recharging three hundred naira (N300) worth of airtime.
To buy airtime for someone else, or even your own number which is not connected to your Ecobank account, follow these steps:
Dial *326#
Select "Load Airtime"
Enter the amount you wish the send to that number
Next, enter the recipient phone number and send
Enter your PIN number. This is to authorize the recharge.
Finally, press the send button to confirm.
Things to Know About Using The Recharge USSD Code
It is totally free to recharge for yourself. That is, buying credit unto a number linked to your account.
No internet is required to access the service.
This is not like the banking hall, with no closing hours.
Thus you can use it 24/7.
Your number must be linked to an active Ecobank account before dialing *326#.
Like I said earlier, the transfer code for Ecobank works on any network in Nigeria.
How To Download The Mobile Banking App
Using the Ecobank transfer code for transferring and receiving money on your phone is very easy and much more convenient if you are not connected to the internet.
However, if you are using a smartphone with internet access, then it would be wise to download the Ecobank mobile app.
Here is how to download and install the Ecobank internet banking app on your smartphone:
Step 1: Connect your phone to the internet.
Step 2: Go to Google PlayStore.
Step 3: Search for "Ecobank Mobile App"
Step 4: Look out for the official Ecobank mobile app.
Step 5: Click on install and wait for the installation process to complete.
Step 6: Tap on Open to launch the mobile app.
Step 7: Sign in and start using the app.
After completing the steps above, then you have successfully registered for the Ecobank mobile app.
That is all you need to know about the mobile banking USSD code for transferring money in Ingeria
This simple and easy article Was Last Updated on by Nana Abrokwa
Please you wish to visit this post "https://thebusinessalert.com/ecobank-transfer-code-nigeria/" ocassionally for changes and updates that we will make to this article.
Check this ultimate guide: https://thebusinessalert.com/sunlearn-student-portal-login/
In the year 2022, we bring you the best of banking and money transfer experience. Just stay tuned for more articles.
Check this ultimate guide: https://thebusinessalert.com/irs-code-290/
Here is the main list of our latest guides for May 2022, check them: